High Marks!
Operation School Bell® helps students learn.

Assistance League of St. Louis is committed to ensuring that all of its philanthropic programs are benefitting those they serve. Results from a recent evaluation of our largest program -- Operation School Bell® -- show that providing new uniforms to school children in need definitely makes a difference!

Teachers and parents whose children received uniforms from Operation School Bell were surveyed using a tool developed with the help of Dr. Eric Armbrecht of Saint Louis University. Many positive effects of school uniforms were observed, including:
Peer pressure to "wear the right clothes" decreased.
The overall school learning environment improved.
Students were better able to focus on their learning.
With the knowledge it is accomplishing key objectives and helping students succeed, Assistance League of St. Louis is pleased to provide Operation School Bell for its 24th school year!
Paying It Forward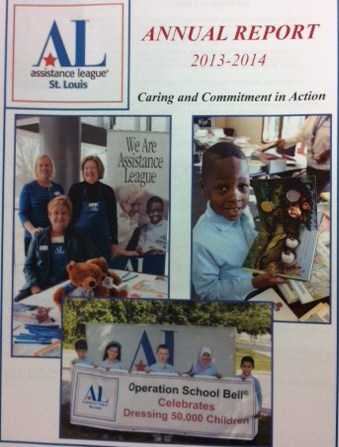 Assistance League of St. Louis Reaches 81% Return to Community
In 2013-14, our chapter reached a milestone- returning 81% of funds raised back to the community through our 6 philanthropic programs, a 2% increase over the previous year!

This achievement would not have been possible without our ALL-VOLUNTEER membership, who contributed over 55,000 volunteer hours, and our corporate, foundation and individual donors. Thank you all!

We consider it a privilege and joy to have gladdened the hearts of 39,000+ women, children and families this year, and we look forward to serving the community throughout the upcoming year.

Click Here to view the full Annual Report
Upcoming Events
New Member Coffee

Friday, January 9, 2015 at 9:30 am
(Snow date January 16th)

Read more...

 

Authors Brunch




Saturday, April 11, 2015
10:00am - 2:00pm
Edward Jones Atrium

Featuring
The Honorable Karna Small Bodman
and St. Louis Author Teri Griege



Karna Small Bodman



Teri Griege

Read more...

 
100% St. Louis Based
100% Volunteer Based
55,000+ Volunteer Hours - Valued at $1,269,382