Paying It Forward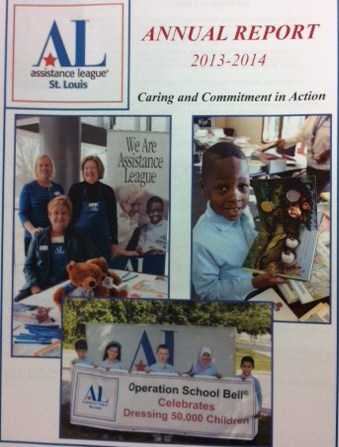 Assistance League of St. Louis Reaches 81% Return to Community
In 2013-14, our chapter reached a milestone- returning 81% of funds raised back to the community through our 6 philanthropic programs, a 2% increase over the previous year!

This achievement would not have been possible without our ALL-VOLUNTEER membership, who contributed over 55,000 volunteer hours, and our corporate, foundation and individual donors. Thank you all!

We consider it a privilege and joy to have gladdened the hearts of 39,000+ women, children and families this year, and we look forward to serving the community throughout the upcoming year.

Click Here to view the full Annual Report
Steps To Success Jump Starts Sept. 15
Our Steps to Success program is ready to leap forward for another fun and exciting year of shoe fittings.

Our dedicated volunteers will distribute 1400 pairs of new athletic shoes and 8400 pairs of socks to the happy, smiling faces of hundreds of very deserving children in 14 schools.
100% St. Louis Based
100% Volunteer Based
55,000+ Volunteer Hours - Valued at $1,269,382