Waste Not Program Maximizes Donations to Community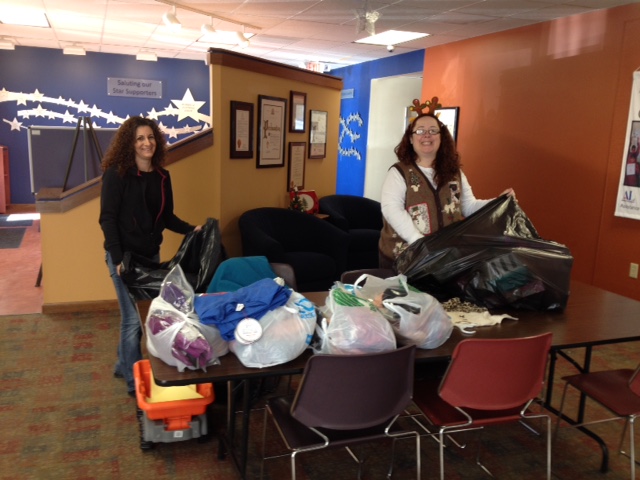 Ferguson-Florissant administrators pick up donations

In 2016, Assistance League of St. Louis kicked off a new program called Waste Not. It is modeled after an Assistance League national program which helps ensure all donations to the organization are used to the greatest good in serving individuals in our community.
Many donated items that are not useable in our philanthropic programs or saleable at Fantastic Finds are given to other nonprofit organizations. These items are not to be resold for the benefit of the organization, but to be directly delivered to families and individuals in need. The goal for Waste Not is the same as the goal for our other programs—to directly meet the needs of deserving children and adults in the St. Louis region.
In 2016, Assistance League of St. Louis donated more than $20,000 worth of goods to other nonprofits, including: Archdiocese of St. Louis's Today and Tomorrow Educational Foundation; Connections to Success; Gateway 180;Innovative Concept Academy; Jennings School District; Normandy Schools Collaborative; OASIS International Ministries; Our Lady's Inn; Rockwood School District; St. Louis Public Schools; and Vashon High School's Performance Improvement Program.
Pack For Kids Program Helps Local Students In Need
This year, Assistance League® of St. Louis (ALSL) is happy to add a special program serving a new group of children—elementary students who are often hungry in spite of living in west county's own Parkway School District. It is called Pack for Kids, and is under the umbrella of Operation School Bell's national Beyond the Bell program.
How did the program come about?
in May 2015, ALSL's annual survey revealed that members wished to expand our philanthropic programs to address what they felt to be the top need of area children--hunger. They also wanted to help children not already served by our organization.
Vice President of Philanthropic Programs Bette Goette and Chairman of Research & Development Marilyn Panter met with Parkway School District officials to communicate our interest in providing some type of food program. Parkway already had two schools with a successful weekend backpack program and was interested in expanding to another school which had great need. The school has a diverse population with 39 percent of students qualifying for free and reduced price lunches.
Upcoming Events
Authors Brunch 2017

Authors Susan O'Leary and John O'Leary
100% St. Louis Based

100% Volunteer Based

63,900 Volunteer Hours Given to the St. Louis Community Valued at $1,501,650.00.

50,017 Lives Touched During 2015-2016 Fiscal Year