Operation School Bell
Helping Students in the Classroom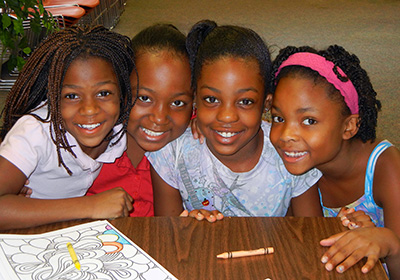 Clean, new, well-fitting school uniforms help create positive outcomes for students and their learning. Operation School Bell, the largest Assistance League® of St. Louis program, helps provide new uniforms to school children in need.
Each child receives the attention of a caring volunteer, who helps find the perfect fit. The volunteers love seeing the wonderful smiles on the children's faces, and the children leave with new uniforms and a new sense of pride.
For more information on Operation School Bell, please This email address is being protected from spambots. You need JavaScript enabled to view it.. You can also make a donation to Assistance League specifying Operation School Bell anywhere on this site.
ALSL volunteers are looking forward to serving 29 schools in the 2016-2017 school year beginning August 16. We will be dressing 60 students per day for 58 dressing days.
Pack For Kids Program Helps Local Students In Need
This year, Assistance League® of St. Louis (ALSL) is happy to add a special program serving a new group of children—elementary students who are often hungry in spite of living in west county's own Parkway School District. It is called Pack for Kids, and is under the umbrella of Operation School Bell's national Beyond the Bell program.
How did the program come about?
In May 2015, ALSL's annual survey revealed that members wished to expand our philanthropic programs to address what they felt to be the top need of area children--hunger. They also wanted to help children not already served by our organization.
Vice President of Philanthropic Programs Bette Goette and Chairman of Research & Development Marilyn Panter met with Parkway School District officials to communicate our interest in providing some type of food program. Parkway already had two schools with a successful weekend backpack program and was interested in expanding to another school which had great need. The school has a diverse population with 39 percent of students qualifying for free and reduced price lunches.
Families are challenged with low wages and some language barriers, and are making sacrifices to live in the area to ensure a quality public education for their children.After several meetings and a survey conducted by school staff to gauge parents' and guardians' interest in the program, a budget of $10,000 to serve an initial 15 students was developed for ALSL board and members' approval. A one-year agreement with the school was signed in June 2016.
How does it work?
The school provides a room for Assistance League members to fill backpacks weekly. To engage as many members as possible, there are four buyers who organize and buy the food and four different volunteers who pack the food each week. Backpacks are numbered as a way of designating recipient's anonymously. Each backpack contains food for two healthy breakfasts, two lunches, two dinners and several snacks. The school counselor and librarian distribute the backpacks each Friday afternoon and students return them on Monday to be packed for the next week.
What's next?
A six-month follow-up survey will be distributed to parents and school staff involved in the program after winter break. The survey results and additional information will be used to evaluate the program in the spring, determining what might need to be improved and perhaps expanded for next year. Many more families are in need of weekend food, and Assistance League of St. Louis is committed to fulfilling that need to the best of our ability.
Operation School Bell® Chalks Up Impressive Stats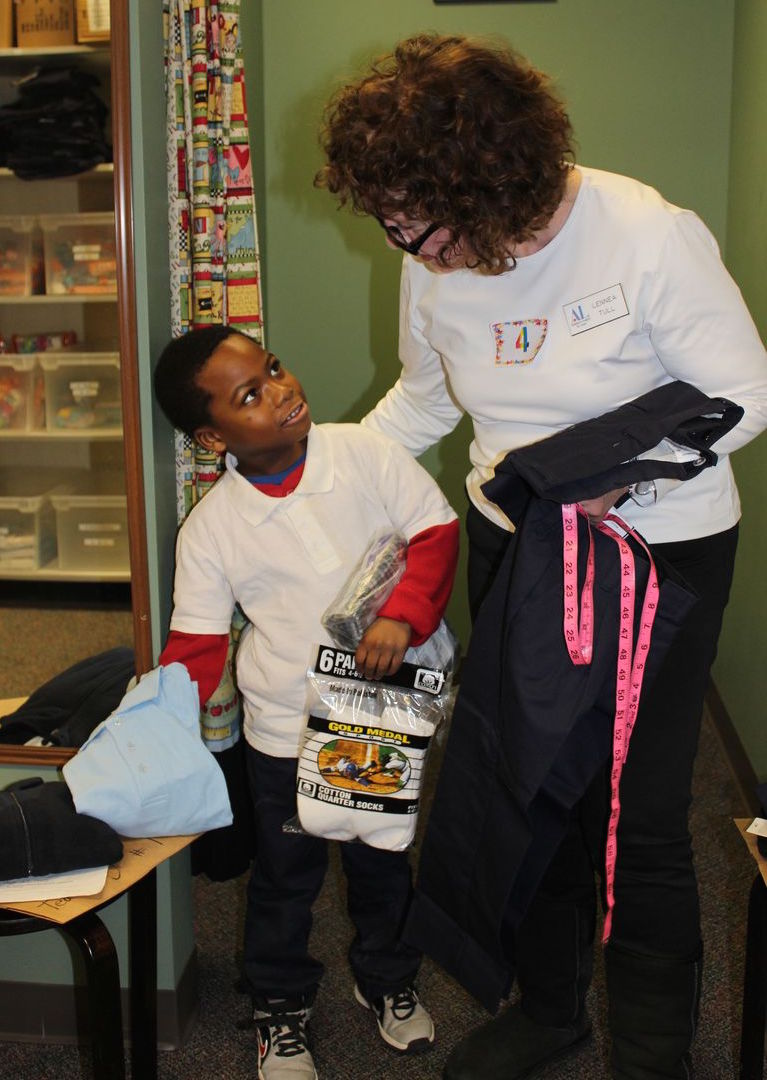 Operation School Bell had another successful year in 2016-2017! Volunteers brought smiles and a sense of pride to nearly 3,500 St. Louis area students at 29 schools who received crisp new uniforms during our 57 dressing days. Each student was carefully fitted by an Assistance League® volunteer and was given two pairs of pants, two short-sleeve and one long-sleeve shirt, one fleece jacket, socks, underwear, a toothbrush, toothpaste and a book of their choice. As in past years, children waiting their turn for the dressing rooms enjoyed a variety of arts and crafts, wrote cheerful messages to hospital patients and were treated to a delightful magic show by one of our talented members.
We work so hard in the classroom. But we can't do our jobs unless we have our students in the right clothing, fitting well and having their social/emotional needs met.
-from a school principal