News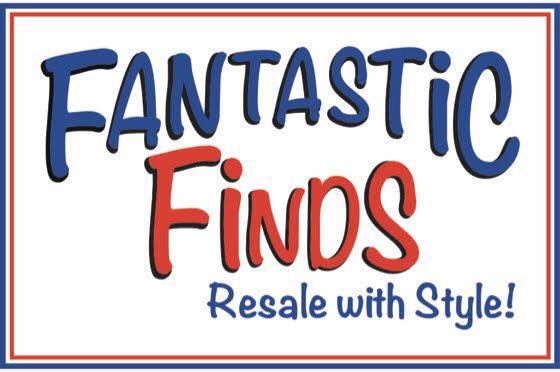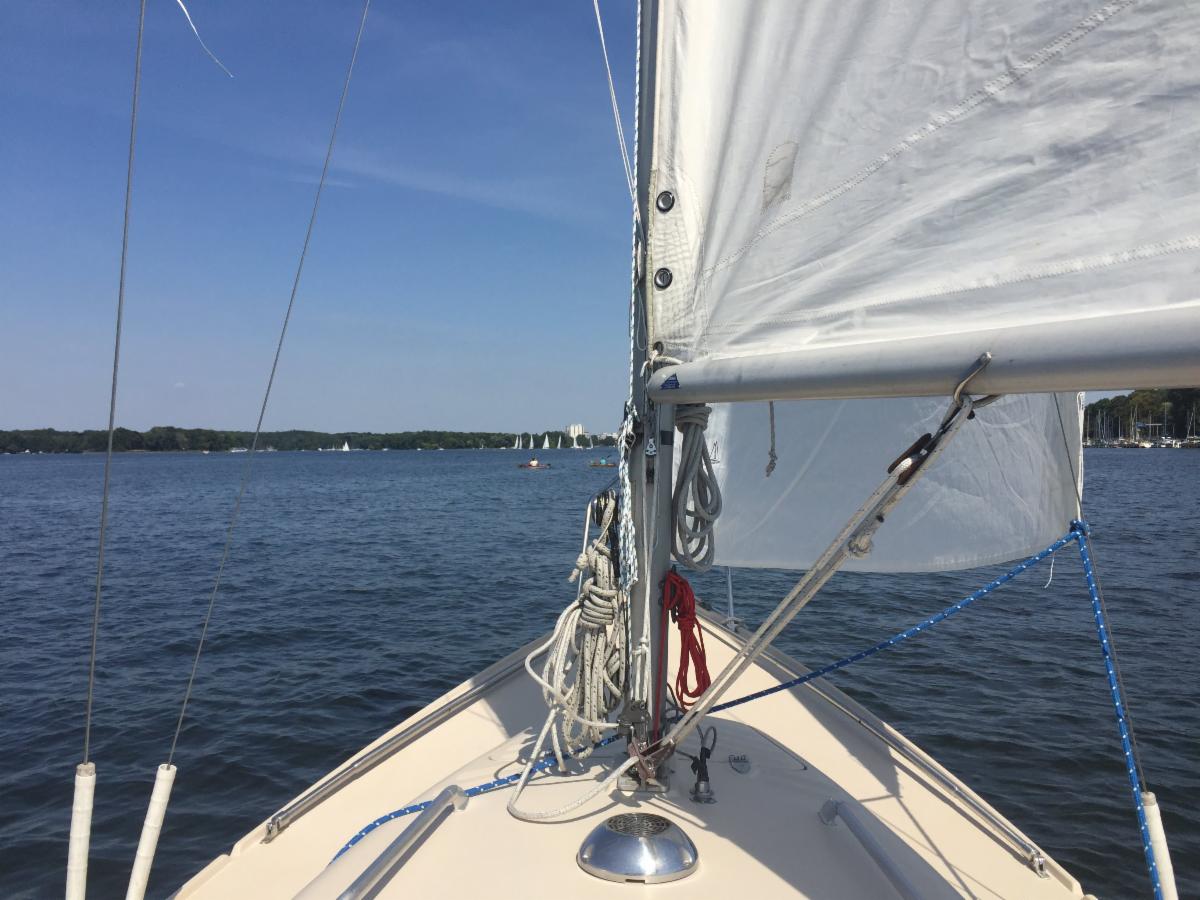 Ahhh...summer is here at last! And we are open and looking forward to seeing you! Our smiling volunteers would love to show you all the ways to summerize your wardrobe and home!
Rest assured that we are following the St. Louis County Health Department Guidelines for retail stores, and we will adjust them as they change. Please note the following measures which will be in place for the foreseeable future:
* Everyone entering Fantastic Finds must wear a mask.
* Social distancing will be observed.
* We will accept credit card and check payment only.
* Please do not bring children 12 years old or younger into the shop.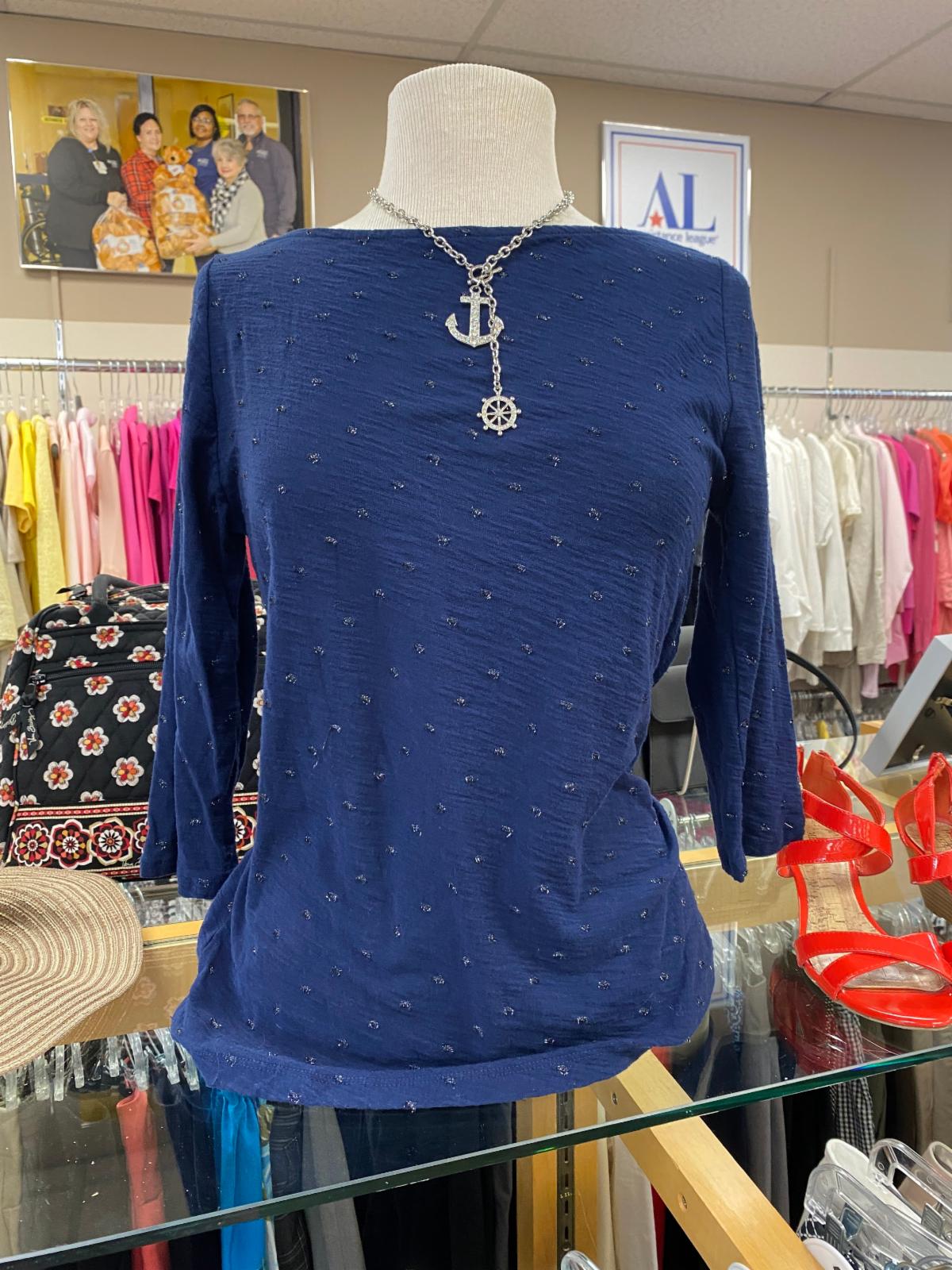 If you have weaned and cleaned out your closets during your stay-at-home time, we're ready for you! Our temporary Donation Center is right next door to Fantastic Finds in the space that used to be Bentley's Pet Stuff. See the current hours for the Donation Center and the Shop.
West County Barnes & Noble Book Fair by Phone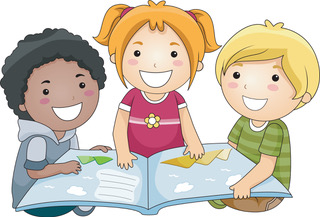 Assistance League of St. Louis members partnered with West County Barnes & Noble the weekend of May 1-3 for a first-time Book Fair by phone. Over the three days of the fair, ALSTL members called in to West County B&N, where their knowledgeable staff of "personal shoppers" helped members select age- and grade-appropriate books for school children. Staff provided callers with an appropriate book list recommended by educators. Books were selected from the list or members could purchase gift cards instead. Members selected 225 books and purchased $2,400 in gift cards for a total of 1,000 new books for the St. Louis Urban League's Back-to-School Expo.
After the book fair, Barnes & Noble staff sorted all the books by grade level, affixed an ALSTL label to each one and sanitized the books and shipping boxes. B&N will send the boxes to a designated location for the Urban League's Expo.
ALSTL is very proud to have a long-standing community partnership with West County Barnes & Noble. For several years, West County B&N has invited ALSTL to hold a very successful in-store Holiday Book Fair and Book Drive. These fairs have enabled ALSTL to donate thousands of books to our community's most deserving children and young adults. We are very appreciative of this additional unique and generous Book Fair by phone during the coronavirus pandemic.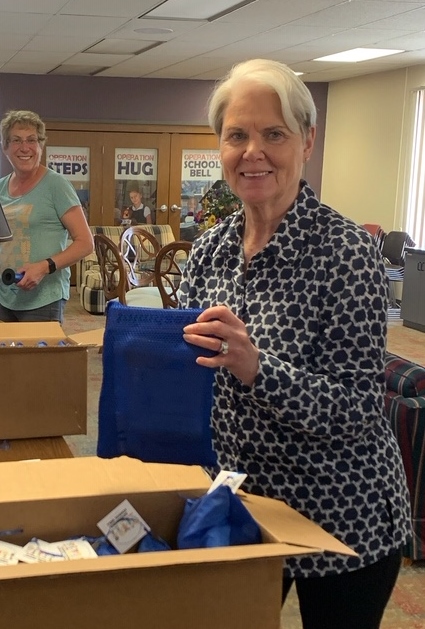 Assistance League of St. Louis cares deeply about the health and safety of everyone we help and all of our 500-plus volunteers who provide a range of services to thousands of St. Louisans. While we have suspended most of the activities of our philanthropic programs over the past several weeks, we have safely responded to urgent needs through small groups. For example, volunteers packed 100 hygiene kits (pictured left) requested by the Saint Louis Public Schools Students in Transition Program serving homeless children. They also organized and boxed books for the Urban League of St. Louis to distribute to children through their meal program, and answered an urgent need for clothing for sexual assault victims in shelters.
We are closely monitoring the region's incidence of coronavirus (COVID-19) and checking with local and state health departments and the Centers for Disease Control and Prevention for advice and updates. We also continue to be in touch with the leaders of agencies, shelters and school districts we serve to determine how we can help others while protecting the safety and health of all involved.
As local, state and county officials move toward allowing resumption of activities, we will post updates on this site. In the meantime, Assistance League of St. Louis Headquarters and its Fantastic Finds Resale Shop remain closed. Know that we are thinking of everyone across our region, state and nation at this difficult time.
Assistance League of St. Louis has temporarily closed its Headquarters and its Fantastic Finds Resale Shop due to the Coronavirus. All of our philanthropic programs and fundraisers have been temporarily suspended. We are under the County Executive's directive and will not be able to open up until after April 23. We will continue to evaluate the situation and keep all informed as decisions are made. Assistance League of St. Louis is committed to the safety and health of the communities we serve. We are thinking of everyone at this trying time.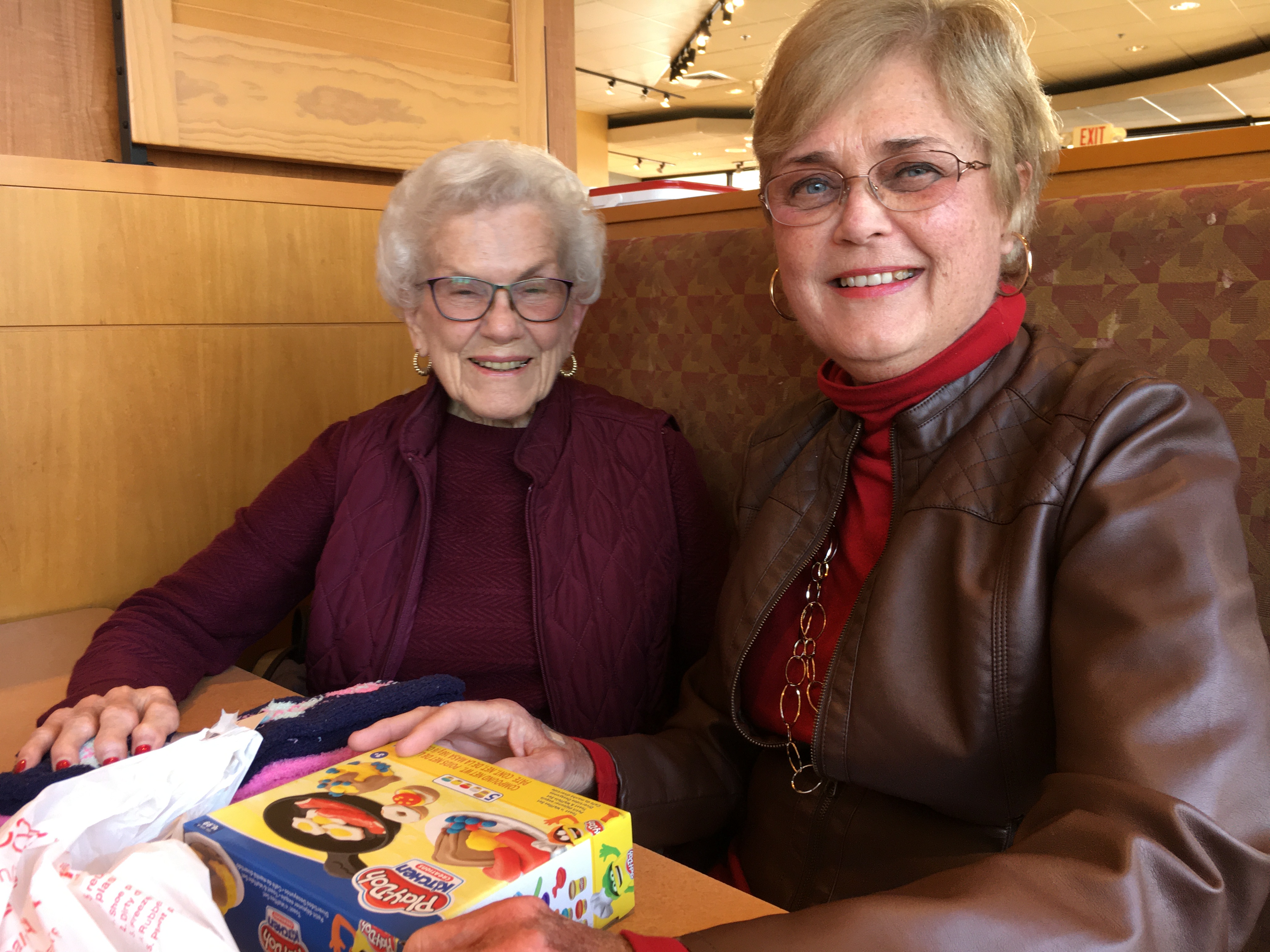 One of eight children from an Illinois farm family, this bundle of energy has lived in three states and traveled the world, but at 93, she is still primarily focused on doing good deeds.
A woman with a career until she was 86, Norma Jean Pew (pictured left) is an official Creve Coeur-Olivette Chamber of Commerce Assistance League of St. Louis "pal" working closely with ALSTL's own Mary Calcaterra (pictured right). Through the Public Relations Committee, Mary is focused on community outreach, attending myriad service club meetings to find partners and donors who will support ALSTL's nine philanthropic programs.
When Mary joined the Creve Coeur-Olivette Chamber, Norma had been an active member there for seven years. The two are part of a chamber networking group. However, Norma, as a chamber ambassador who helps onboard and mentor new members, also serves as Mary's ambassador. Norma works the room before each meeting to find likely contributors who need to hear about ALSTL.
Norma also has tapped her own contacts to solicit gifts for ALSTL. In December alone, she secured two large trash bags of new children's socks and 20 new toys for distribution to deserving children by turning to a firm called OsteoStrong-St. Louis and its owners, Johnny and Laura Harper. Norma knew the Harpers because she goes to OsteoStrong in Creve Coeur to strengthen her bones. The Harpers agreed to reach out to hundreds of their clients for contributions. The result? Hundreds of socks—plus toys for ALSTL.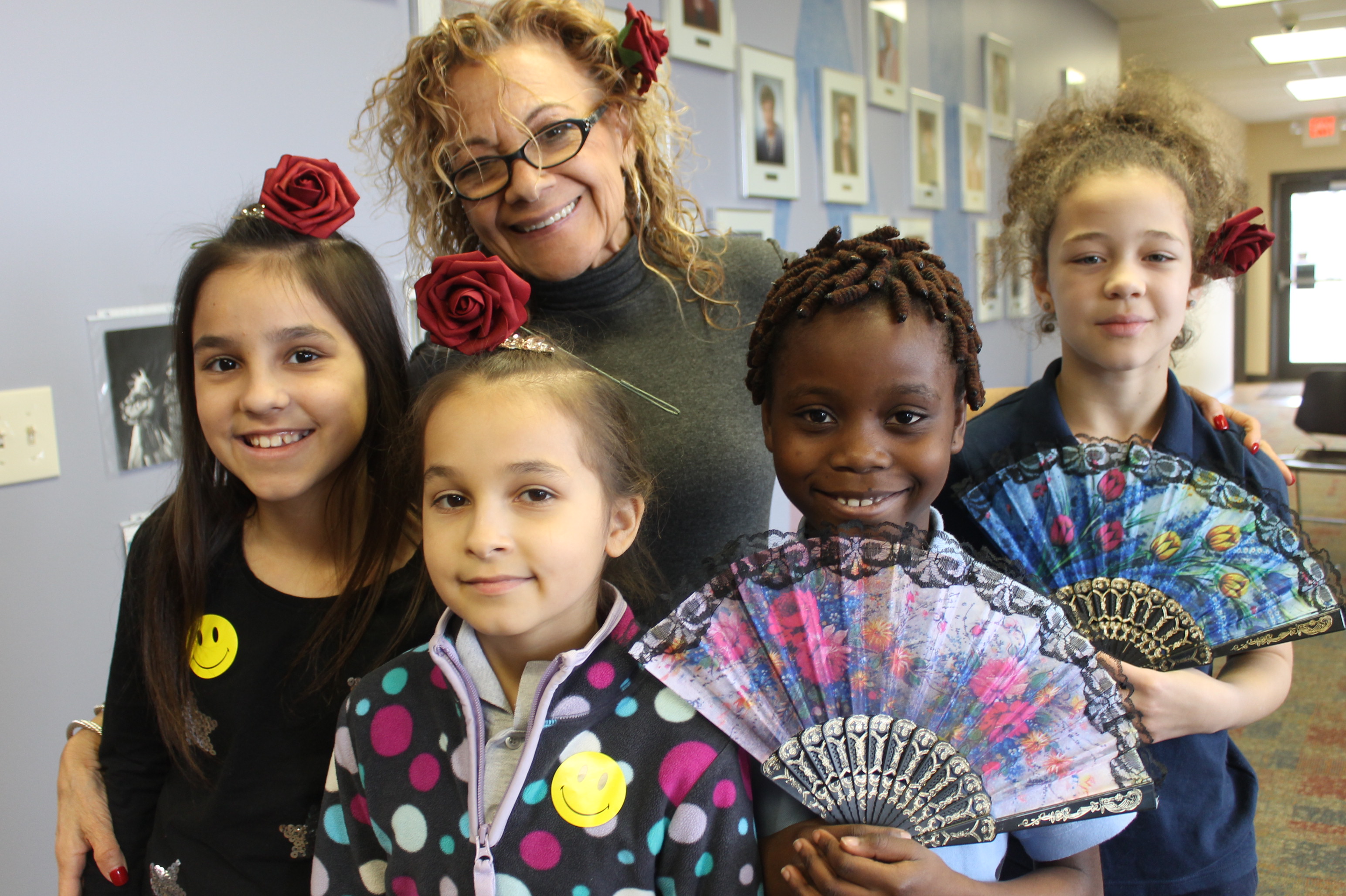 Opera Theatre of St. Louis docent Beverly Whittington came to Assistance League of St. Louis January 22 for the year's last fitting for new school uniforms. Whittington told children who were waiting to be fitted for clothing about the music, scenery and stories behind famous operas. For the Dewey Elementary School kindergarteners through fourth graders, she played music from George Bizet's famous opera Carmen—the story of a free-spirited gypsy girl who flirted with a soldier named Don José by tossing him a "cassia flower." The children donned flowers that Carmen might have worn in her hair. They also waved scarves to mimic a toreador's moves in the famous Toreador March (see video)---one of the most memorable themes of all time from the famous opera. Opera Theatre of St. Louis is performing Carmen this season.
Beginning in August 2019 to January 2020, Assistance League volunteers fitted children from 33 schools over 60 dressing days. Through this program called Operation School Bell®, deserving children came for fittings from the school districts of Ferguson-Florissant, Hazelwood, Jennings, Normandy and St. Louis City. In 2018-2019, Assistance League served 7,312 elementary school children through this program, providing each student 22 items, including two pairs of pants, knitted hats, gloves, two short-sleeve and one long-sleeve shirt, one fleece jacket, socks, underwear, a toothbrush, toothpaste and other hygiene products and for each girl—a headband. Each student also receives a book of the child's choice.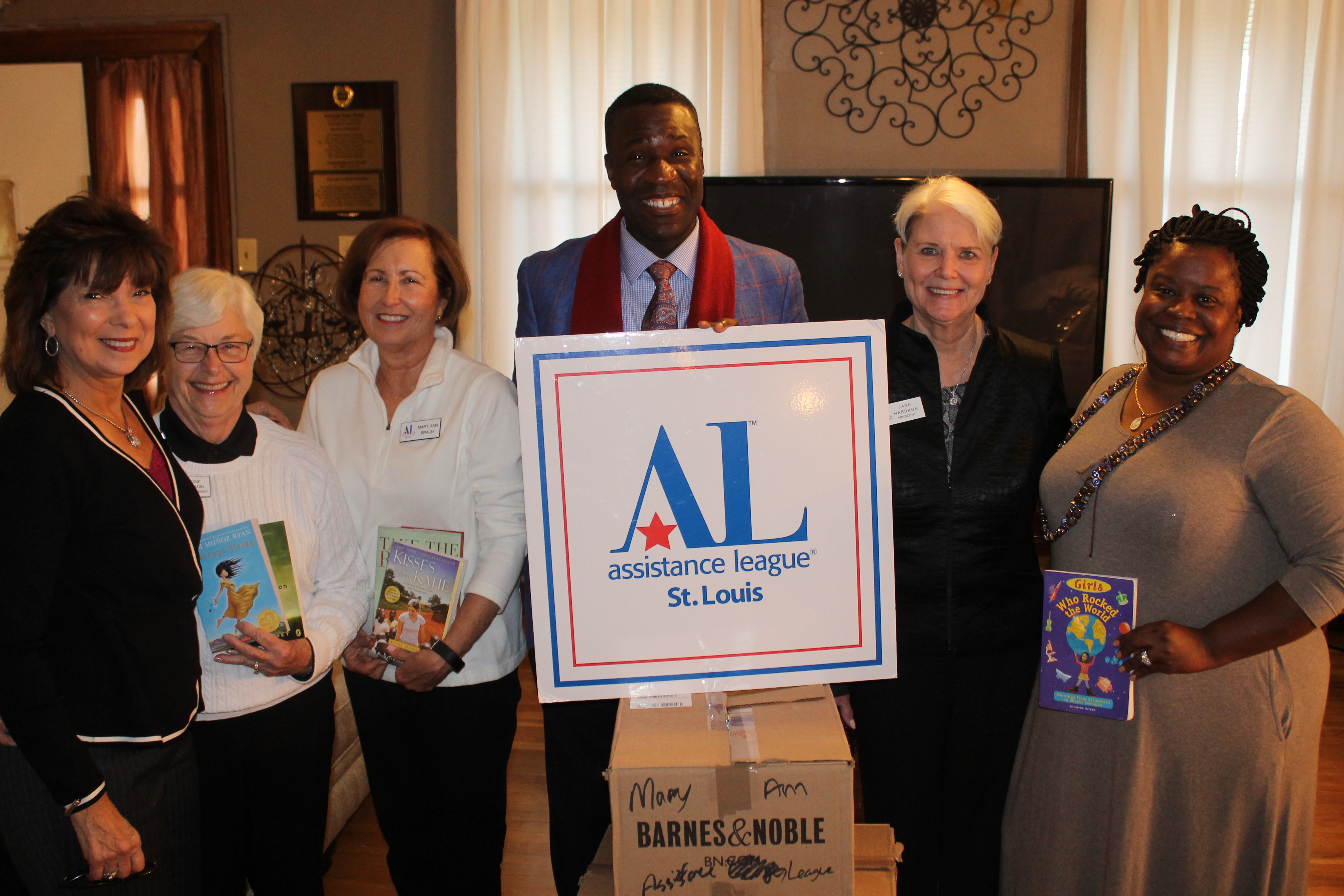 Four Assistance League of St. Louis volunteers on Nov. 7 joined Superintendent of Jennings School District Dr. Art McCoy to deliver 100 books of each student's choice to Hope House I and Hope House 2. Both houses were established by the Jennings School District for students who are in transition or homeless. The group visited homes managed by House Parents Pam Price and Tanisha Blocker. (Pictured above, from left, are Assistance League volunteers Sue Long, Rosie Saladin and Mary Ann Braun with Jennings Superintendent Dr. Art McCoy, Assistance League President Jane Harbron and House Parent Pam Price.)

"We opened two Hope Houses because we believed it was essential to make sure that these children had the support that they needed to be successful not just in school, but in life," said Dr. McCoy. "Many students just need a place to stay until the crises in their families are resolved. But they can have a home at Hope House throughout their school years. Assistance League's gift of books is very much appreciated and reflects the community support we've received to make these homes great places for our children."

Up to 12 students, ranging in age from 5 to 18, can live in the two houses. Each child's stay is overseen by a foster care management team from the Children's Division of the State of Missouri Department of Social Services. While receiving help with homework, group and individual therapy and the comfort of a safe well-appointed home, children can also enjoy making crafts and decorating for holidays. Completing basic chores earns the children points toward special treats. Assistance League volunteers conduct school book festivals across St. Louis, providing free books, reading sessions and literacy activities to thousands of deserving students.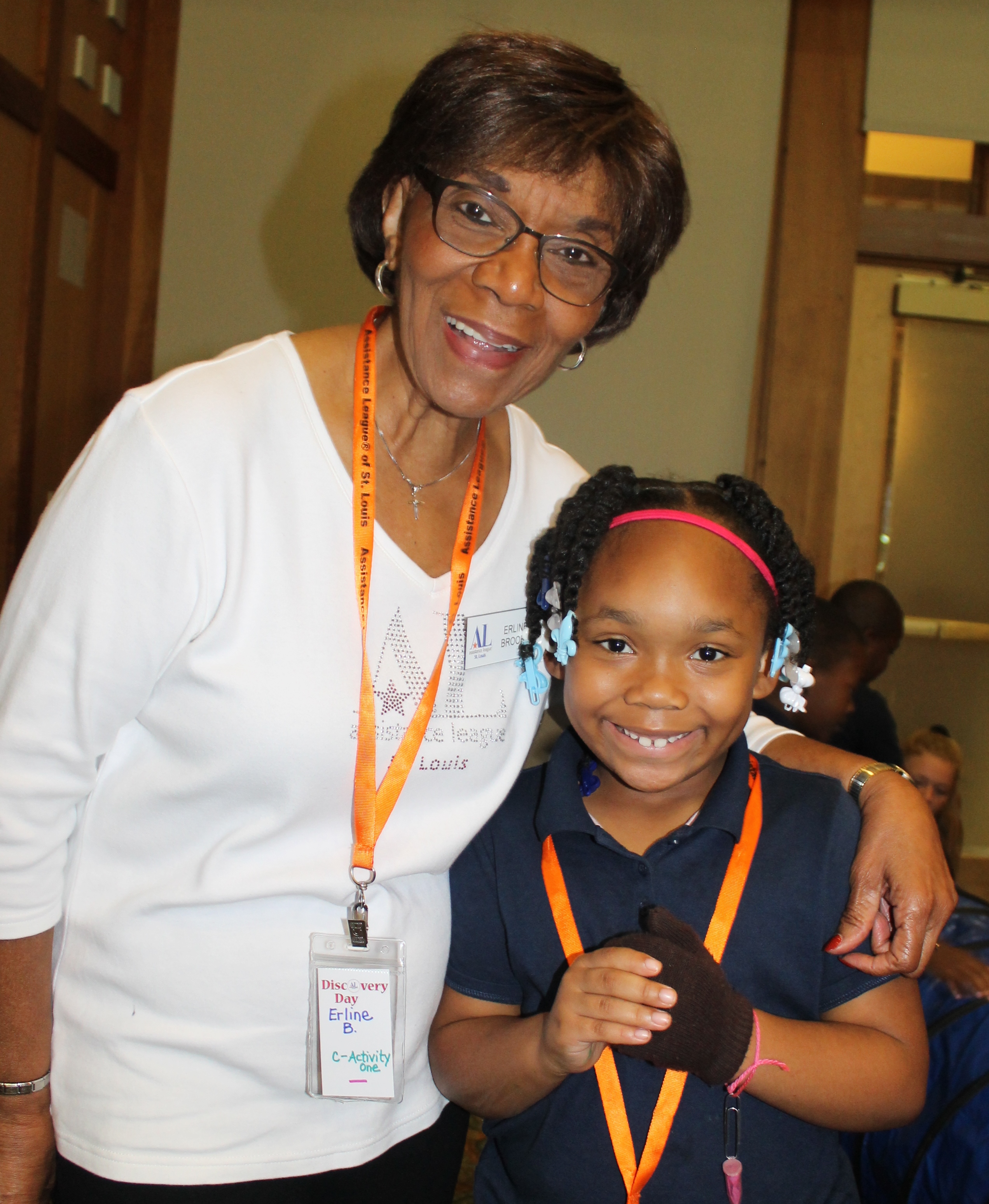 At Assistance League of St. Louis' fourth annual Discovery Day, 60 volunteers (Erline Brooks shown left) brought 120 deserving 1st through 4th grade Jennings Fairview Primary School students to the Saint Louis Zoo. The students were fitted for new athletic shoes and socks, and also participated in a fun dance exercise in their new shoes.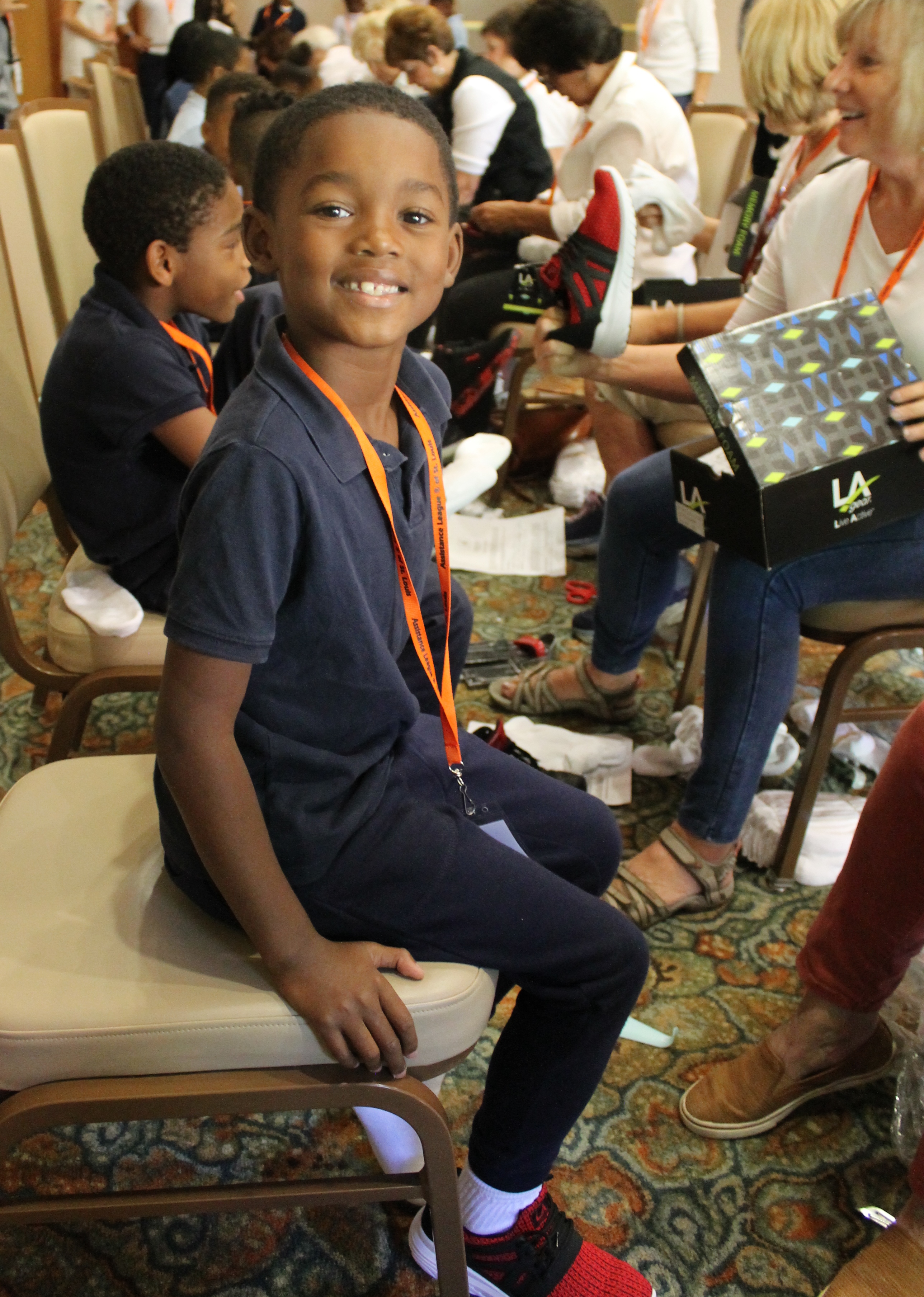 They learned about pollination from a Zoo interpreter in a bee costume who led students in a bee obstacle course and a bee waggle dance. Students also visited the Stingrays, the pollinator garden and the Zoo's Bayer Insectarium and took a ride on the train.

Watch the Fox 2 News coverage here.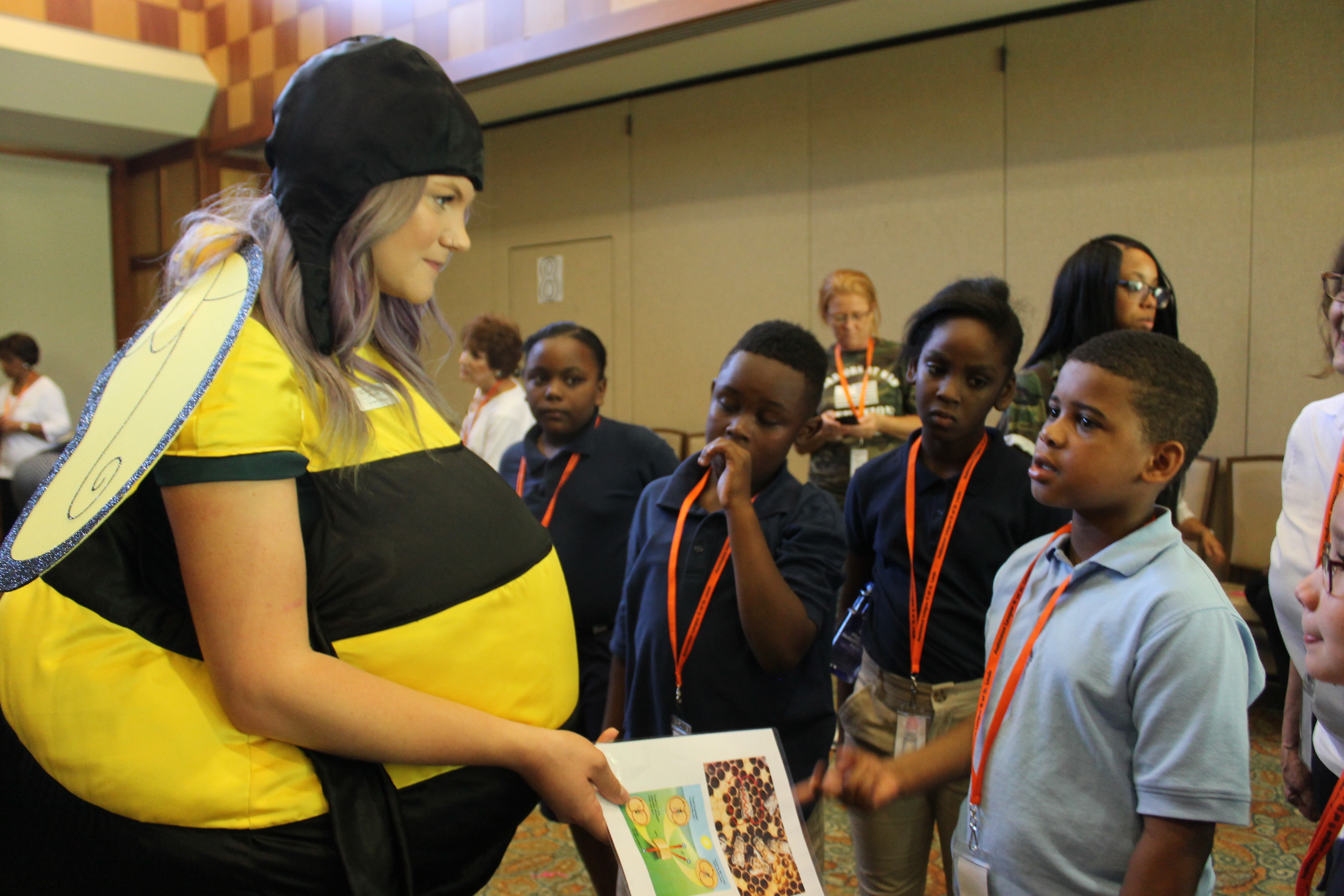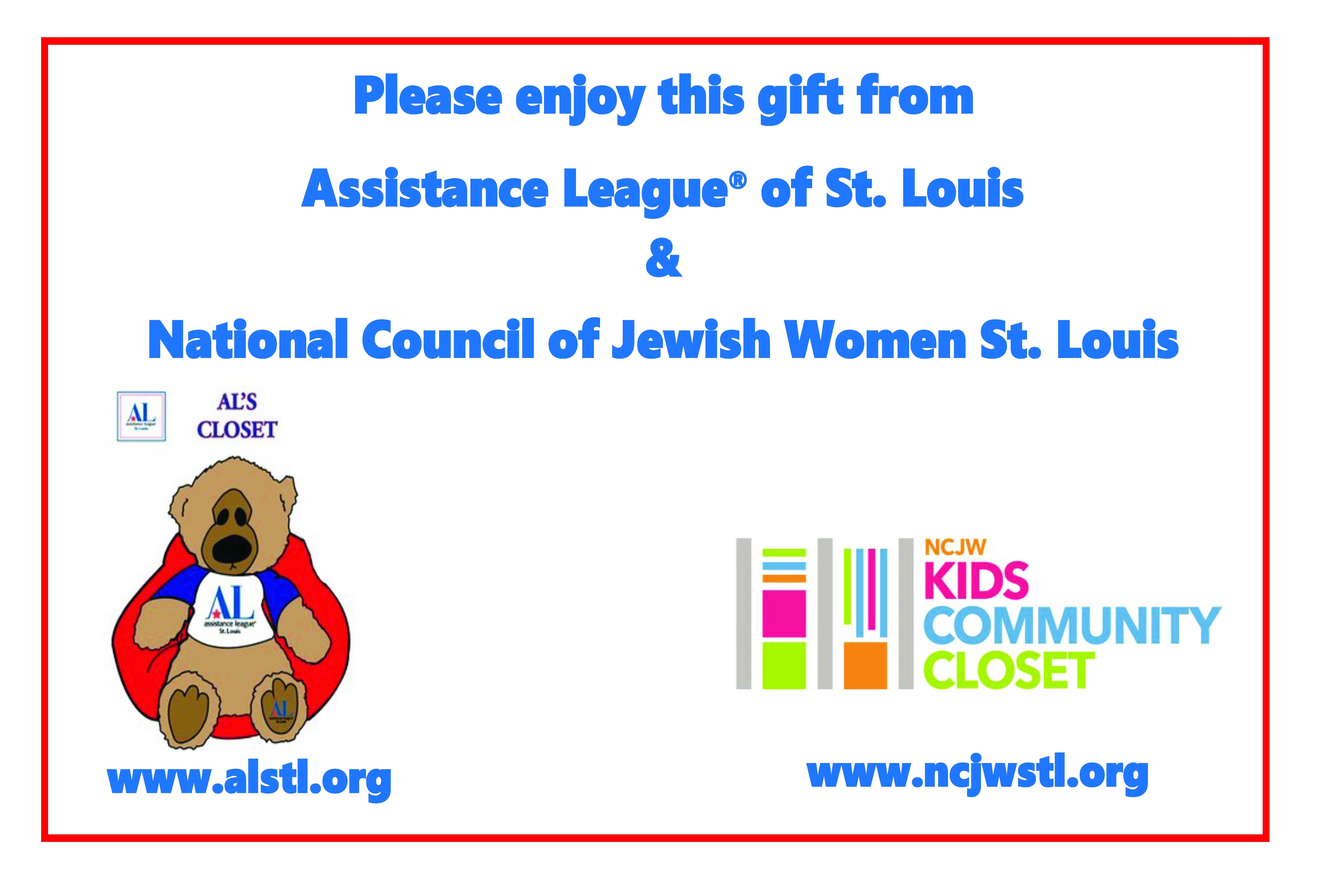 In 2018-19, Assistance League of St. Louis through Operation School Bell® (includes "AL's Closets" in many schools) provided each of 7,312 students with 24 items including uniforms and hygiene products. In addition, through Steps to Success, Assistance League provided shoes and socks to 4,011 students. National Council of Jewish Women St. Louis also provided many of the same items to some of these children and others in the St. Louis Public Schools.
This year, these two organizations have joined forces! Overlapping services to the same schools and children has been eliminated. All children in the St. Louis Public Schools previously served continue to receive the same items. But, many additional students from other qualifying St Louis Public Schools which had not been served because of budget limitations have been added to the program!

Other Assistance League programs that provide inventory for AL's Closets in the schools include My Own Fun Stuff, Operation Hug, and Books from Friends. National Council of Jewish Women maintains a Kids Community Closet in some schools.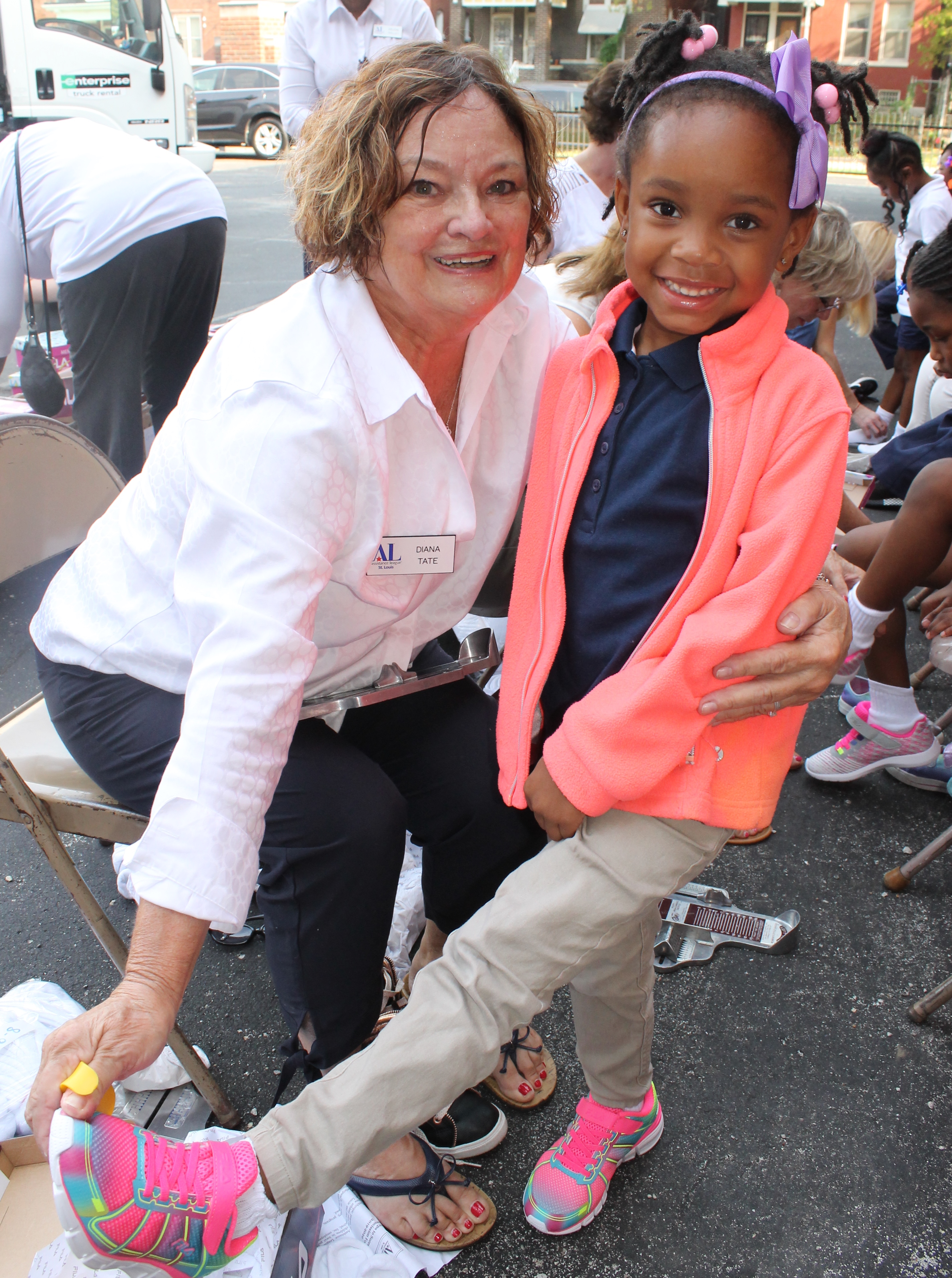 Assistance League Member Diana Tate (left), of Ballwin, and Arlene Holley, (below) of Creve Coeur, joined 22 other Assistance League of St. Louis volunteers on Tuesday, Sept. 10, to fit deserving Hamilton Elementary School kindergarten through fourth graders with new athletic shoes and three pair of socks. Fittings happen annually in the fall and spring—bringing children who are wearing incorrect shoe sizes or shoes that allow their feet to get wet and cold greater comfort and improved self-esteem.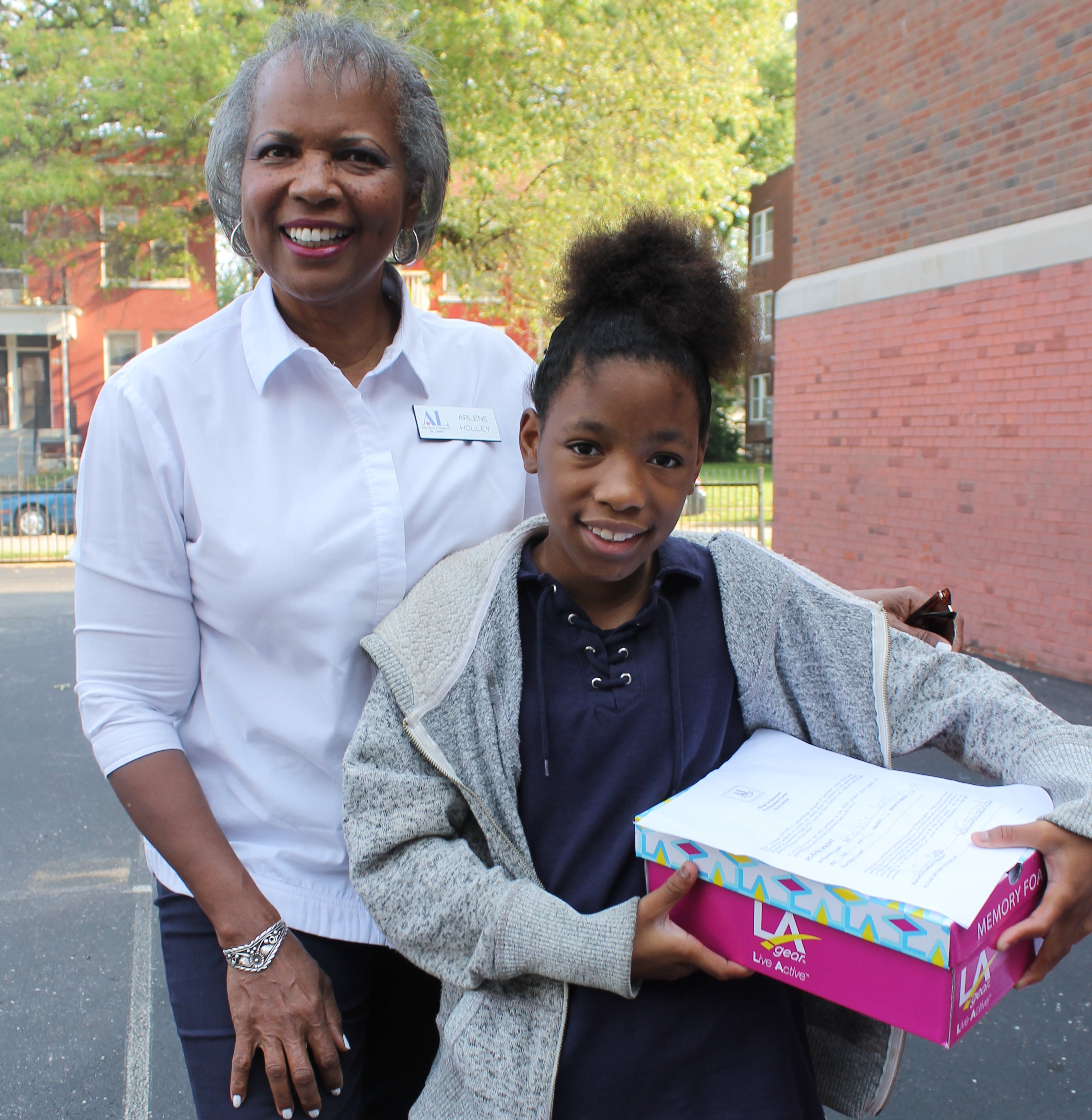 During the 2018-2019 season, Assistance League volunteers visited two agencies and 36 schools in 8 school districts—providing 4,011 St. Louis area school children with new athletic shoes and socks.

Each fitting day, 20 to 30 Assistance League volunteers travel to three elementary schools to fit school children with a pair of the latest styles and colors in athletic shoes. Assistance League's philanthropic partner, Shoe Carnival, provides two or three employees who work alongside Assistance League volunteers each fitting day.