Events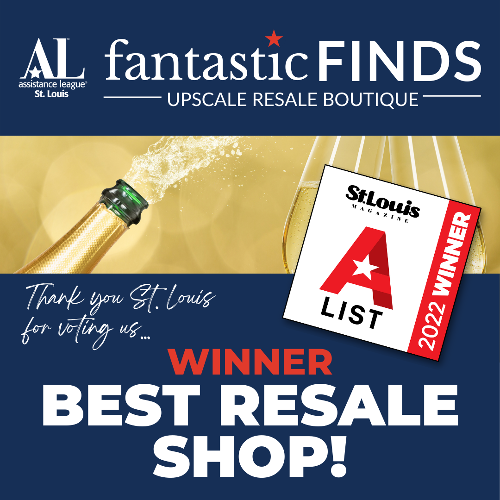 Assistance League of St. Louis is excited to announce that their resale store, Fantastic Finds, has won St. Louis Magazine's A-List Award for Best Resale Shop in the area! The St. Louis community has recognized Fantastic Finds as having the best and most beautifully arranged merchandise in the St. Louis vicinity! See the magazine's A-List issue coming out in July.
Fantastic Finds' success is due to the over 100 volunteers who price merchandise and staff the store itself. In addition, the high quality women's, men's and boutique clothing, shoes, purses, home décor, jewelry, books plus children's clothing and toys are second to none.
Fantastic Finds is located at Bellerive Plaza in Creve Coeur
at 12778 Olive Blvd. (314-579-9500).
Store hours are Tuesday through Saturday from 10 am to 4 pm.
Gently used donations are accepted Tuesday through Friday from 11 am to 3 pm.
Elizabeth Berg (Pictured second from left), New York Times Bestselling author, captivated an audience of 343 guests on April 30 for Assistance League of St. Louis' 17th Annual Authors Brunch fundraiser at Meadowbrook Country Club. The sold-out event, Celebrating Acts of Kindness, featured three of the author's 30 novels with the connecting theme of kindness: Arthur Truluv, Night of Miracles and The Confession Club.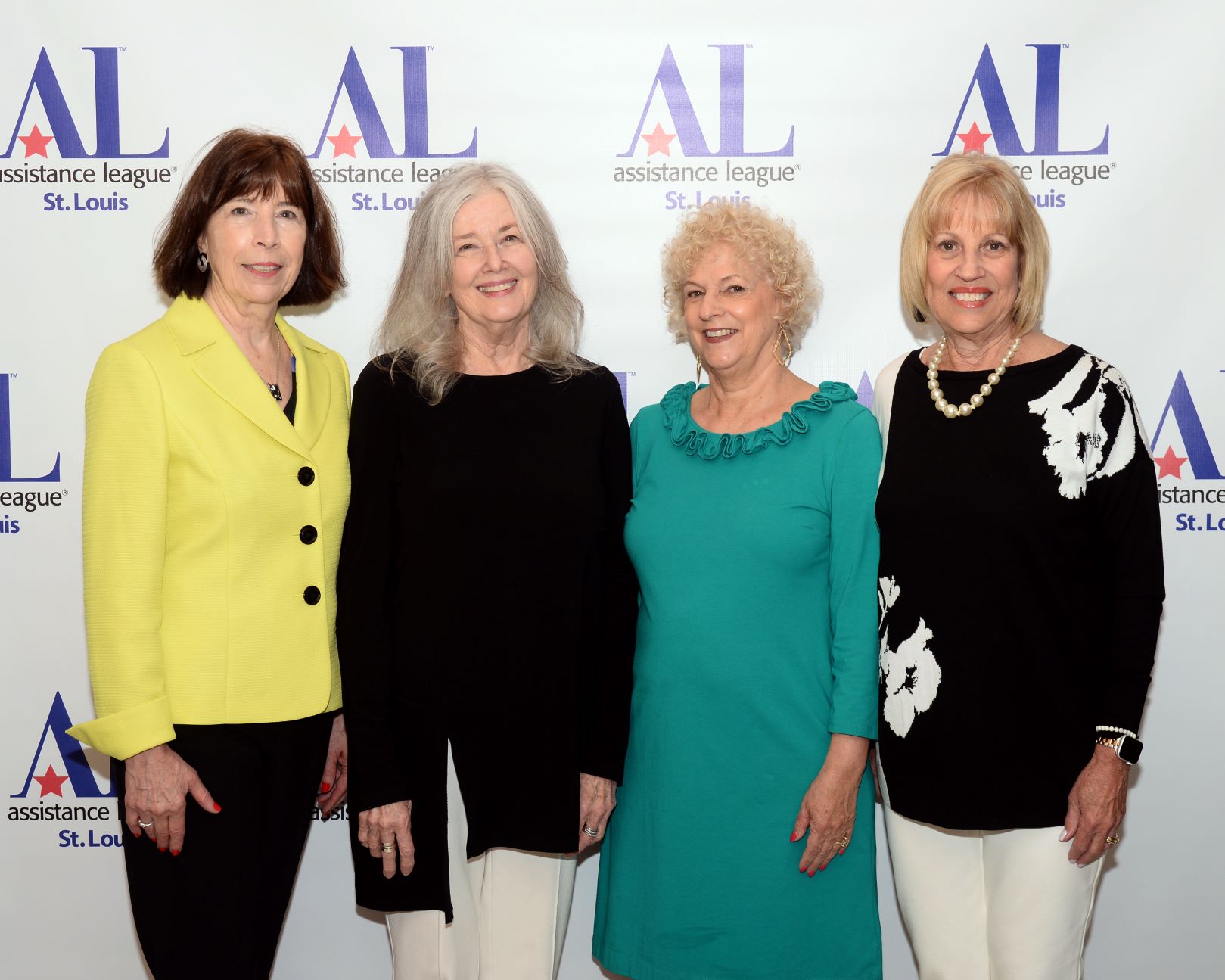 Guests in the sun-filled ballroom were seated at tables with joyful floral arrangements designed and created by the members. As they enjoyed a generous three-course lunch, they were mesmerized by Elizabeth's inspired journey from registered nurse to world-renowned author. Her 10-year nursing career with stories of hope, fear, regret and the power of kindness inspired her and all of us... Celebrating Acts of Kindness.
With over 4 million copies of her books in print, Elizabeth Berg has written nearly two dozen novels in addition to short-story collections and works of nonfiction. She has been praised for "her ability to find the extraordinary in the ordinary, the remarkable in the everyday" (The Boston Globe).
Assistance League of St. Louis President, Yolanda Perez-Cunningham said the non-profit "would not exist without the life-changing acts of kindness of their 476 volunteer-members and generous donors." Authors Brunch helps support five programs that impacted the lives of 35,000 women and children last year in the St. Louis community. One of these programs, Books from Friends provides more than 15,000 books each year to school children in over 39 public schools. Authors Brunch helps these young students begin the lifelong joy of reading. Assistance League of St. Louis programs include books because generously sharing a love of reading is truly an Act of Kindness.
See additional photos from the event at the Town & Style Magazine Gallery.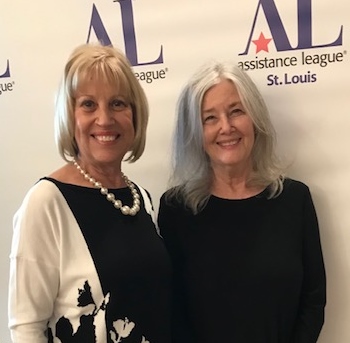 Nearly 350 Assistance League of St. Louis members and guests enjoyed the 17th Annual Authors Brunch at Meadowbrook Country Club on April 30, featuring noted author Elizabeth Berg (pictured in left photo to right of Event Chairman Debbie McConnell). Tickets to 13 awesome Opportunity Baskets--including a Money Tree worth $320--sold out! This wonderful fundraising event will bring joy and comfort to the many children and families in the St. Louis community who are served by ALSTL programs! See additional photos at the Town & Style Magazine Gallery. More details to come!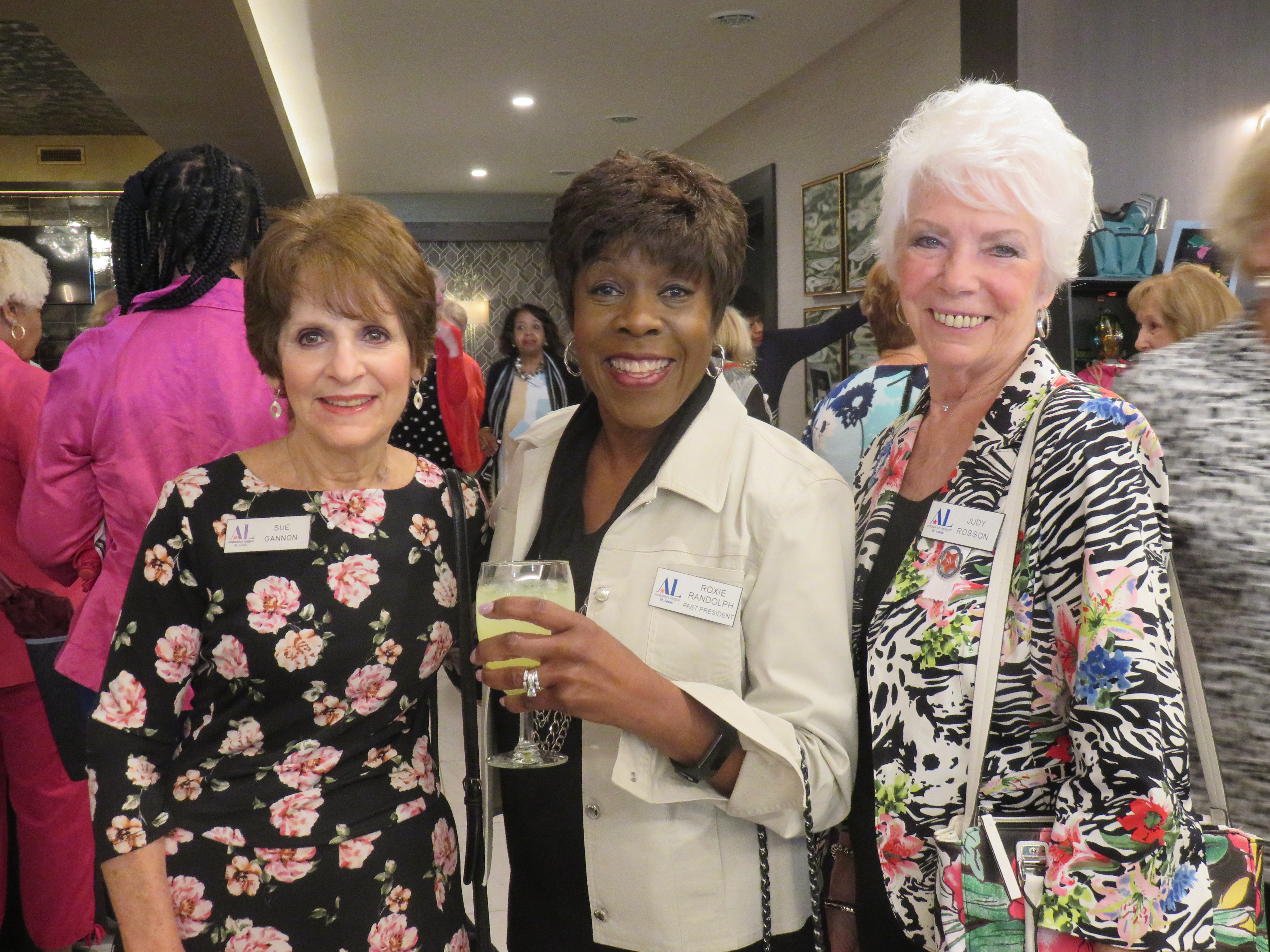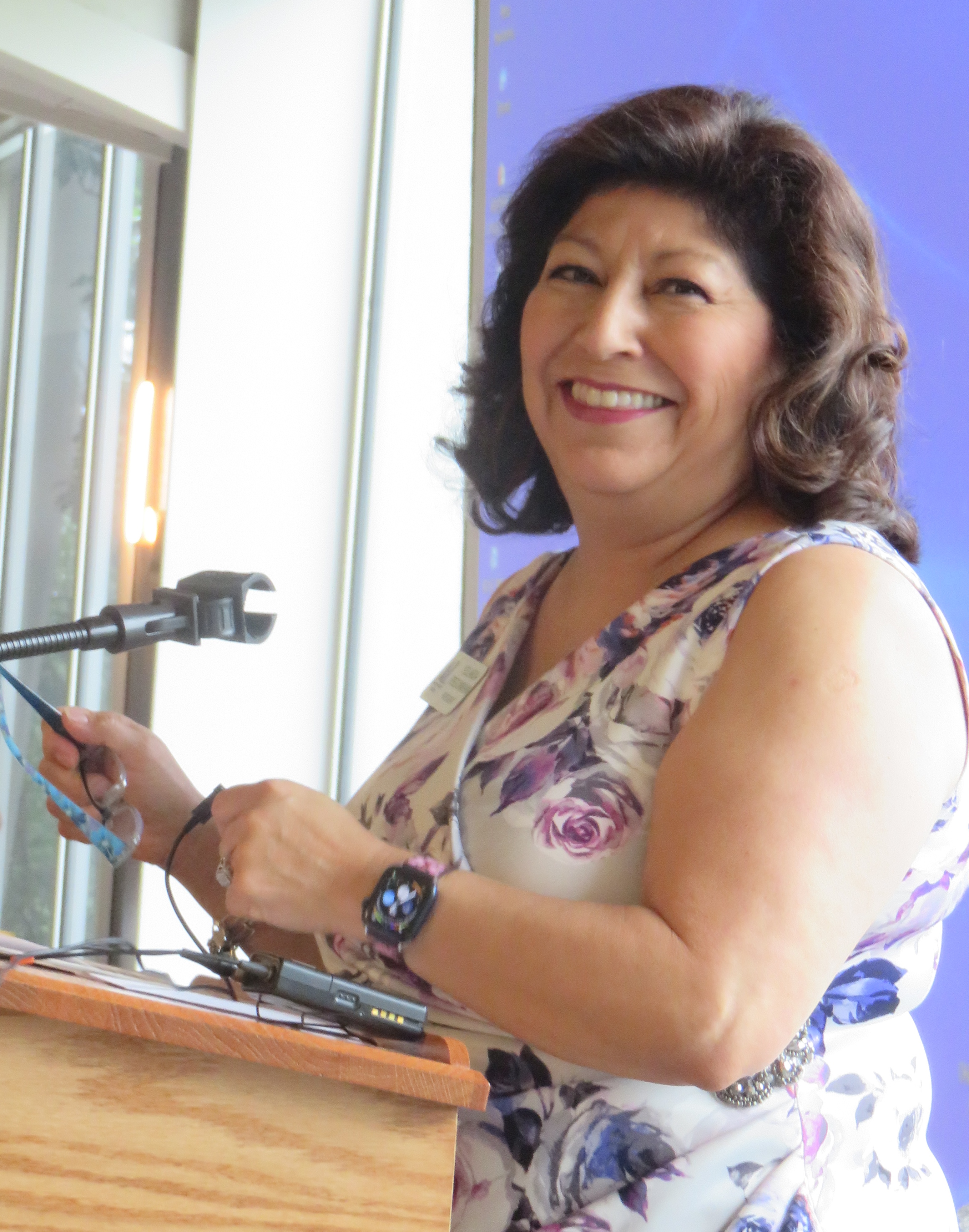 Assistance League of St. Louis looks forward to seeing you at our 17th Annual Authors Brunch featuring noted author, Elizabeth Berg. View the invitation for more details. You may also now view photos of the exciting Opportunity Baskets that will be available!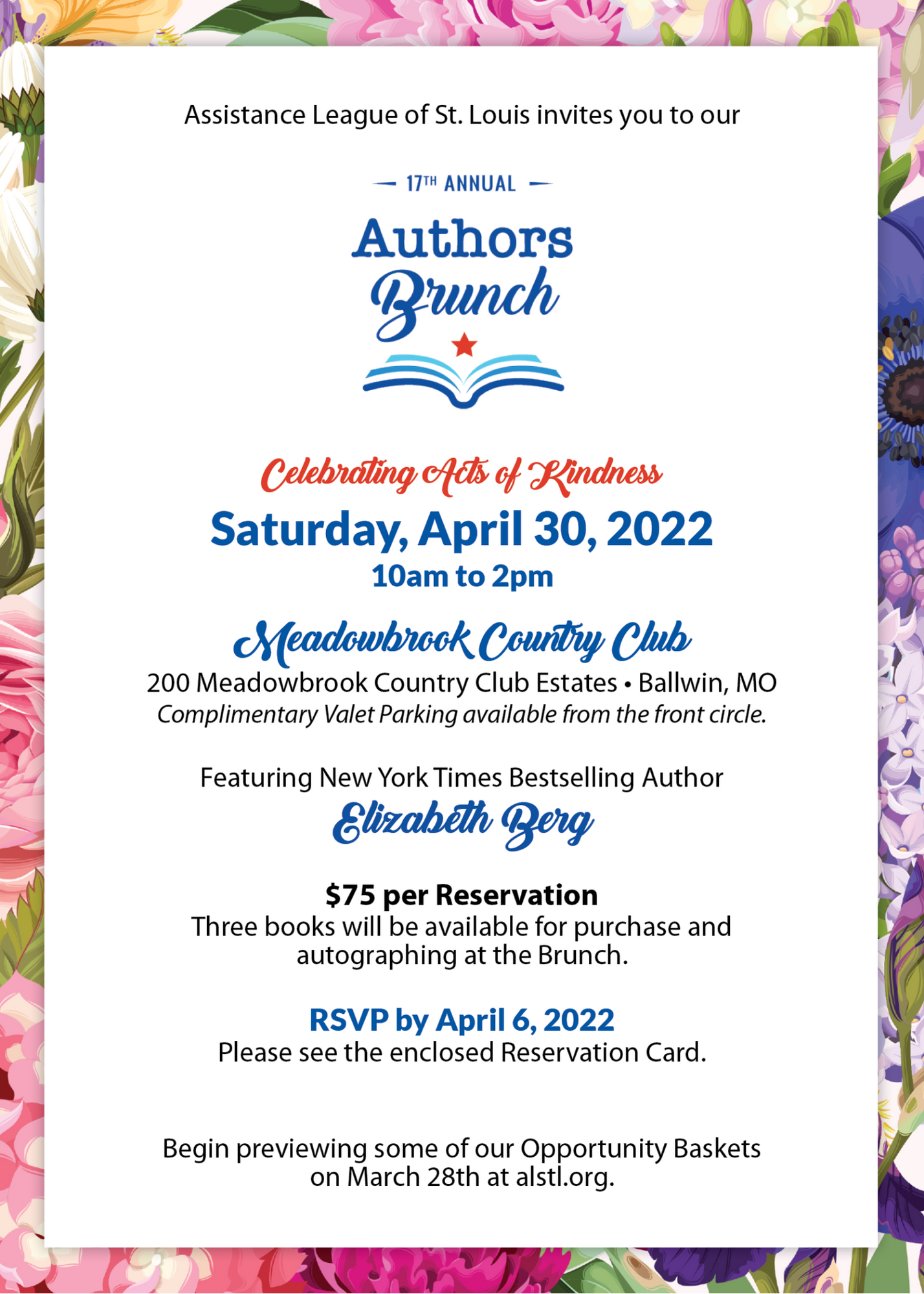 Elizabeth Berg is the author of many bestselling novels, including The Story of Arthur Truluv, Open House (an Oprah's Book Club selection), Talk Before Sleep, and The Year of Pleasures. She adapted The Pull of the Moon into a play that enjoyed sold-out performances in Chicago and Indianapolis. Berg's work has been published in 30 countries, and three of her novels have been made into television movies.
On the day of the event, you may purchase a signed copy of any of her featured books, The Story of Arthur Truluv, Night of Miracles and The Confession Club. View a short video clip recorded by the author for Assistance League.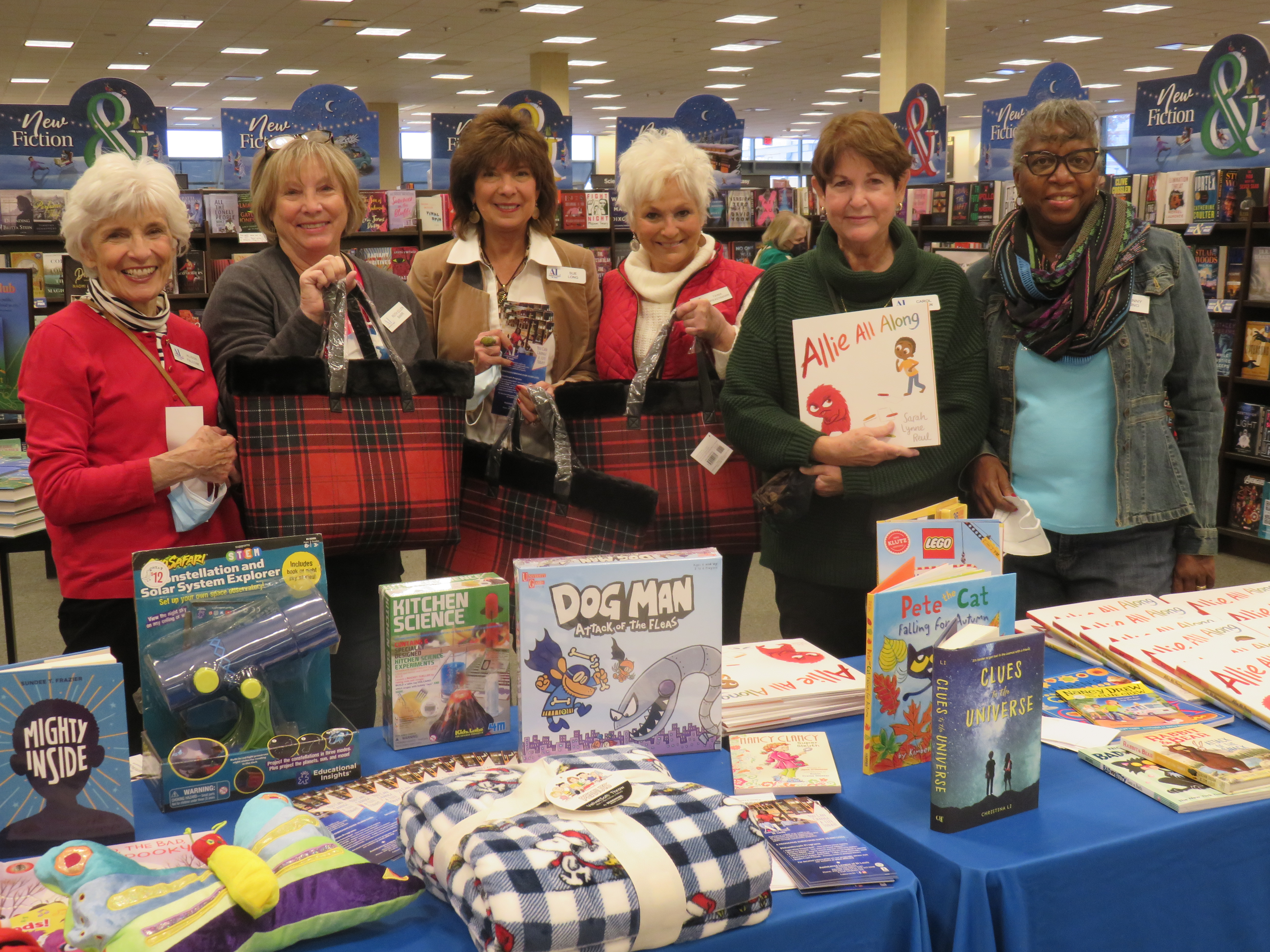 On November 13, volunteer members of Assistance League of St. Louis' Books from Friends program and West County Barnes & Noble celebrated a great tradition, working together at their day-long Holiday Book Fair. This year's successful event will provide Assistance League of St. Louis with a Barnes & Noble gift card for over $2800.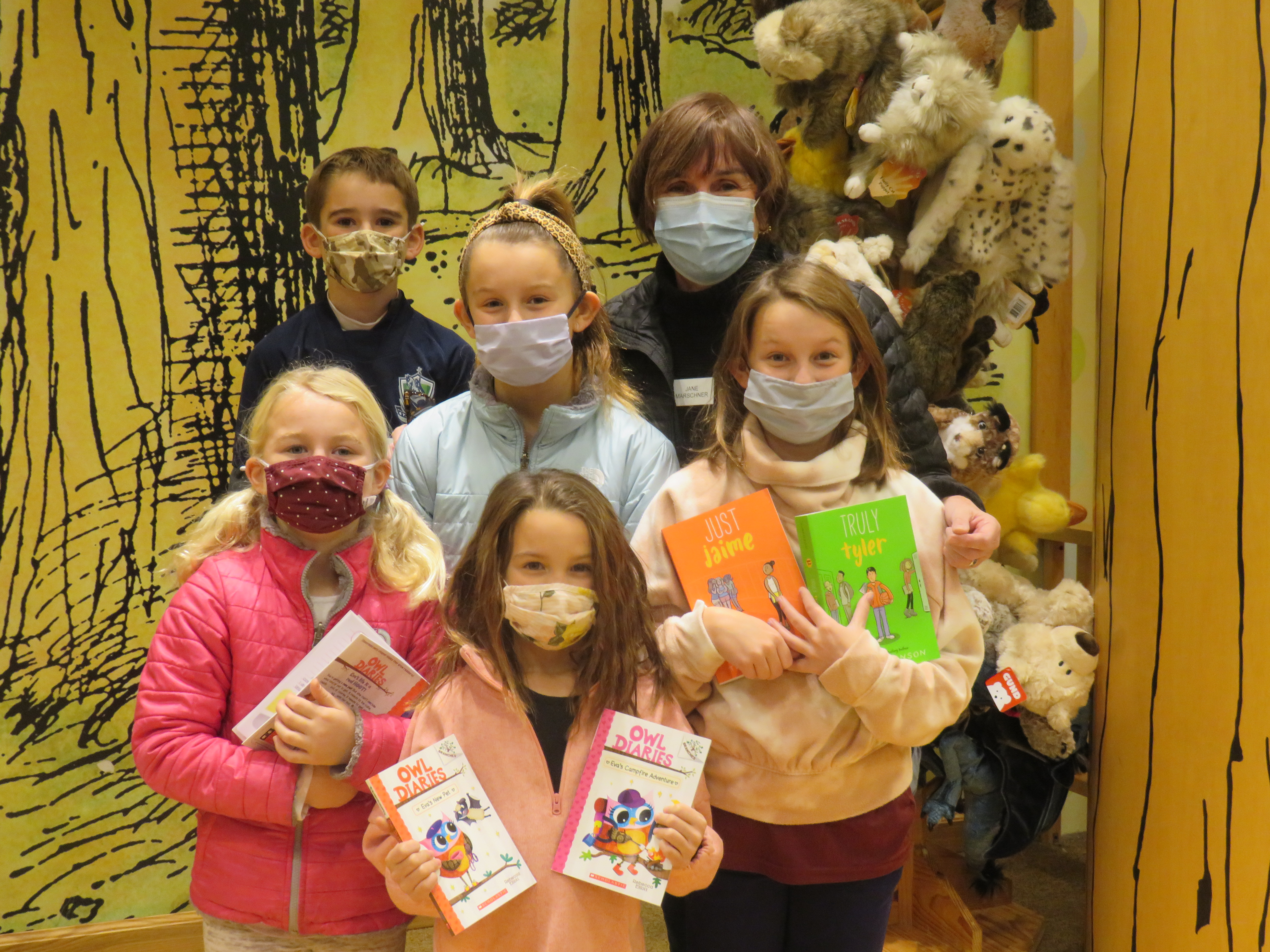 The proceeds will enable the Books from Friends volunteers to purchase and donate thousands of age-appropriate books requested by local schools and other non-profit agencies.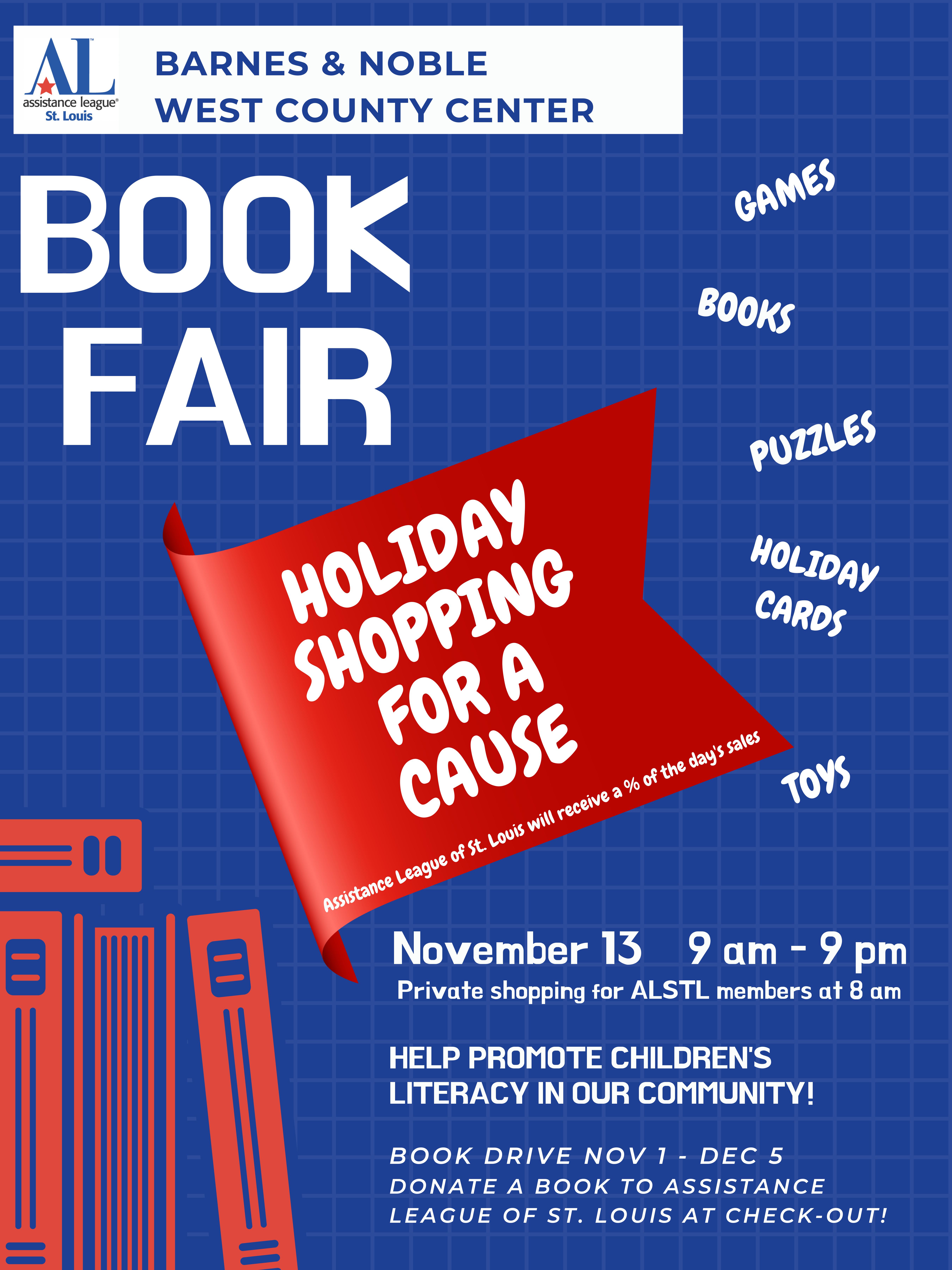 You have two great opportunities this month to have some fun shopping and to support Assistance League of St. Louis at the same time!
BOOK FAIR NOV. 13 : From 9 a.m. to 9 p.m. on Saturday, Nov. 13, a percentage of in-store, online and phone sales at Barnes & Noble West County Center will benefit Assistance League's Books from Friends (BFF) program.
In-Store – Upon checkout, specify that you want your purchase to benefit the Assistance League of St. Louis. Assistance League members will have an exclusive shopping hour from 8-9 a.m.!
Online – Go to www.BN.com/bookfairs, and after shopping, go to the bottom of the checkout page, and choose "Check this box if it is a Bookfair Order." Use Bookfair Code/Event ID 12616371.
Phone Sale – Call 314-835-9981 and, when paying, request that your purchase benefit Assistance League.
BOOK DRIVE: From Nov. 1 to Dec. 5, you may purchase books or a Gift Card for Assistance League's BFF program. Please be sure to specify your purchase is for Assistance League.
Are you ready for an evening of fun, good food and relaxation with your friends? All for a great cause?
Join us on Saturday, November 6 at 6:00 p.m. at the DoubleTree Hotel in Chesterfield.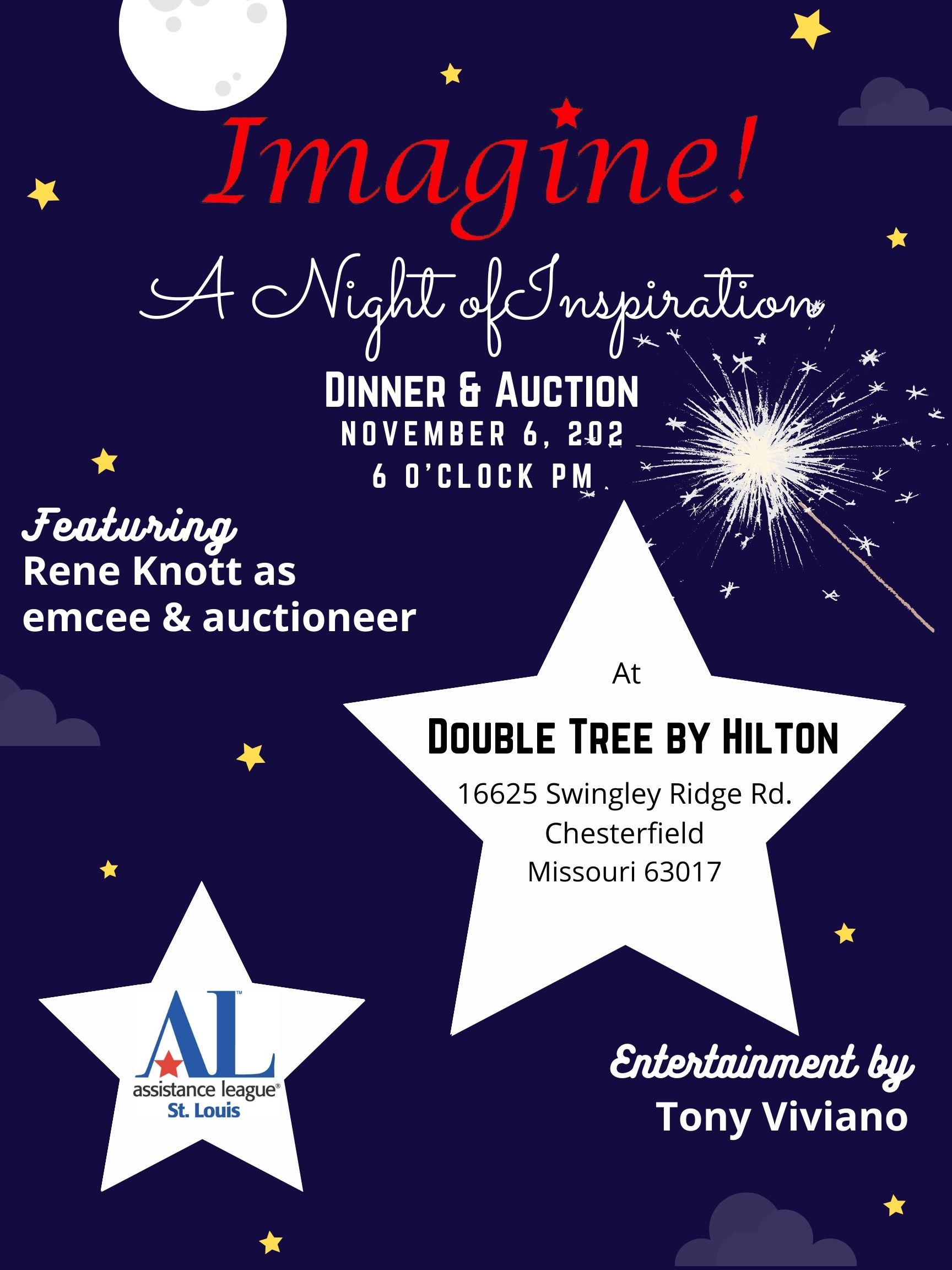 We are planning an exciting and classy Imagine! gala for this fall. We have secured a beautiful spacious venue, the Tony Viviano Band, valet service for our members and their guests, an extremely appetizing gourmet dinner with premium beverages, dinner entertainment, and dazzling decorations.
Our master of ceremonies and auctioneer will be Mr. Rene Knott of KSDK 5 TV. We look forward to hosting our guests on this special evening as we strive to raise funds to support our 2021-22 programs for many community families.
Please join us for great food and drinks, music, entertainment, comradery, and exceptional Silent and Live auctions. See a sneak preview of Live auction offerings here! Invite your friends and relatives! There will be something for everyone.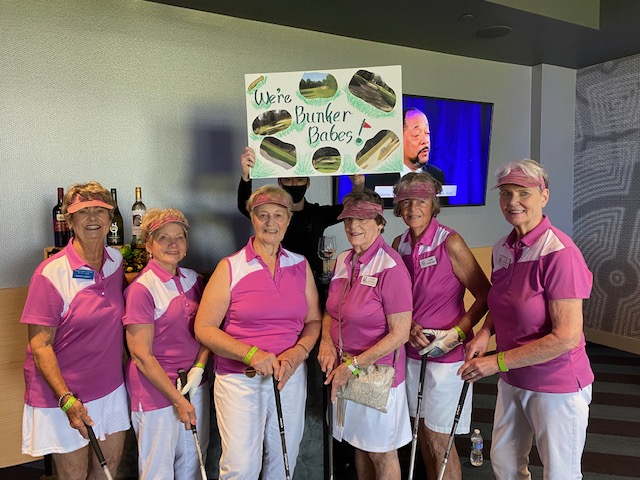 Whether you were a proficient golfer or picking up a club for the first time, you were bound for an afternoon of fun and excitement while helping a worthy cause. On Sunday afternoon, June 13, members of Assistance League of St. Louis and their friends, family, and colleagues participated in Swing for Good, a fund raising event at Topgolf in Chesterfield, Missouri. How did this work?
In 28 separate climate-controlled "bay" areas, a team of four to six players took turns hitting micro-chipped balls at what looked like a giant colorful inground dart-board target in an outfield. The closer you got to the center or bullseye and the further the distance, the more points you earned. Those points were electronically calculated to a screen in your bay area. Who could tally up the most points on your team? Who could hit it the farthest? It didn't seem to matter to most. Competitiveness was not the name of the game; it was the comradery, the fun and the cause you were supporting!
Meanwhile, in the Signature Room of Topgolf, 13 "opportunity baskets" of golf-related items beckoned your attention. Included in the baskets were rounds of golf from local clubs, enticing golf paraphernalia, and generous contributions of wines and cordials. For the 154 participants of this event, a delicious lunch including dessert and soft drinks was served.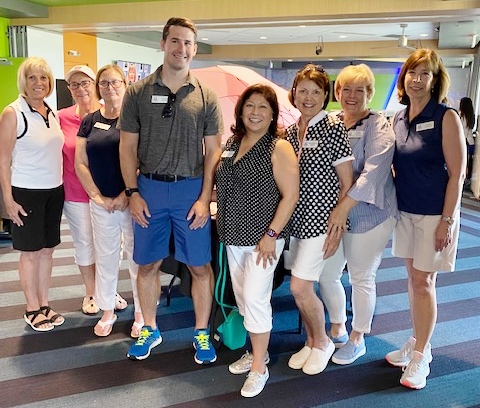 Chairing this first-time-for-Assistance League event was member Chris Zang, with his talented committee (pictured here). In summing up the results of this venture, Chris said, "We had great aspirations for contributing to the programs of Assistance League. We were astonished at the generosity of our attendees & supporters and we were invigorated with the enthusiasm and fun prevailing throughout the afternoon!"

Generous sponsors included Barb and David Gifford, Vicki and Doug Hill, Karen Keske, Yolanda Perez-Cunningham and Gary Cunningham, Suzanne and Mike Pratl, Dawn and Rod Thomas, Edward Jones, First Bank, Mercy, and US Bank. Other supporters were Aberdeen Golf, Berry Hill Golf, Family Golf Center, Elder Manufacturing, The Landings, Meadowbrook Country Club, Normandie Golf, Probstein (Forest Park) Golf and Riverside Golf.
Proceeds of this event support the many programs of Assistance League of St Louis which last year touched the lives of more than 34,000 children and adults in the St. Louis area.