Events
Are you ready for an evening of fun, good food and relaxation with your friends? All for a great cause?
Join us on Saturday, November 6 at 6:00 p.m. at the DoubleTree Hotel in Chesterfield.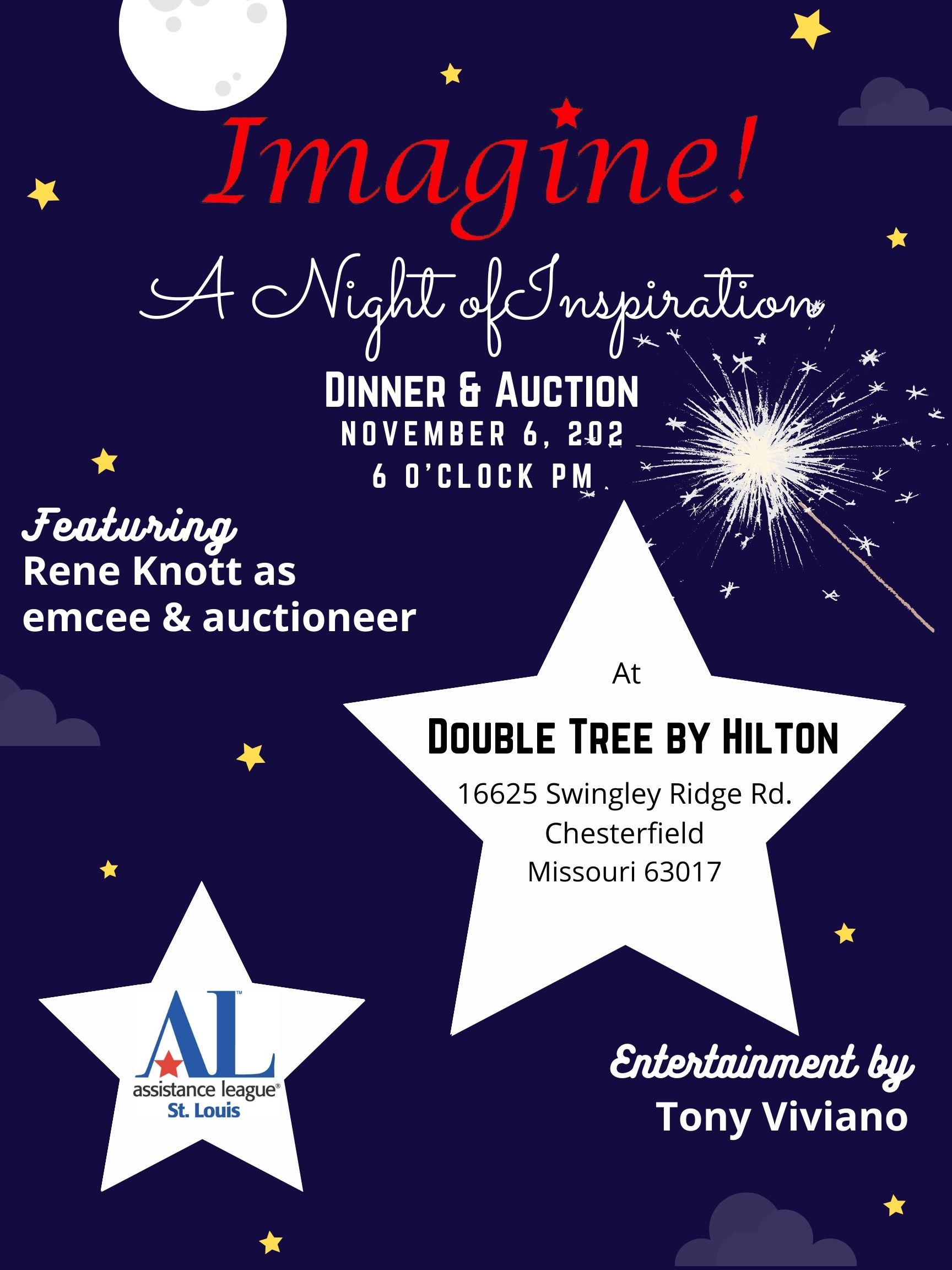 We are planning an exciting and classy Imagine! gala for this fall. We have secured a beautiful spacious venue, the Tony Viviano Band, valet service for our members and their guests, an extremely appetizing gourmet dinner with premium beverages, dinner entertainment, and dazzling decorations.
Our master of ceremonies and auctioneer will be Mr. Rene Knott of KSDK 5 TV. We look forward to hosting our guests on this special evening as we strive to raise funds to support our 2021-22 programs for many community families.
Please join us for great food and drinks, music, entertainment, comradery, and exceptional Silent and Live auctions. See a sneak preview of Live auction offerings here! Invite your friends and relatives! There will be something for everyone.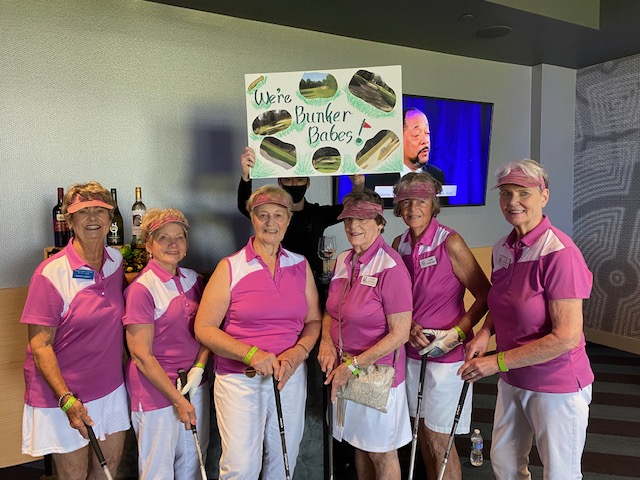 Whether you were a proficient golfer or picking up a club for the first time, you were bound for an afternoon of fun and excitement while helping a worthy cause. On Sunday afternoon, June 13, members of Assistance League of St. Louis and their friends, family, and colleagues participated in Swing for Good, a fund raising event at Topgolf in Chesterfield, Missouri. How did this work?
In 28 separate climate-controlled "bay" areas, a team of four to six players took turns hitting micro-chipped balls at what looked like a giant colorful inground dart-board target in an outfield. The closer you got to the center or bullseye and the further the distance, the more points you earned. Those points were electronically calculated to a screen in your bay area. Who could tally up the most points on your team? Who could hit it the farthest? It didn't seem to matter to most. Competitiveness was not the name of the game; it was the comradery, the fun and the cause you were supporting!
Meanwhile, in the Signature Room of Topgolf, 13 "opportunity baskets" of golf-related items beckoned your attention. Included in the baskets were rounds of golf from local clubs, enticing golf paraphernalia, and generous contributions of wines and cordials. For the 154 participants of this event, a delicious lunch including dessert and soft drinks was served.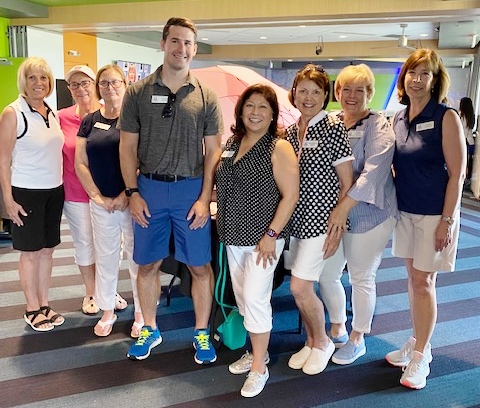 Chairing this first-time-for-Assistance League event was member Chris Zang, with his talented committee (pictured here). In summing up the results of this venture, Chris said, "We had great aspirations for contributing to the programs of Assistance League. We were astonished at the generosity of our attendees & supporters and we were invigorated with the enthusiasm and fun prevailing throughout the afternoon!"

Generous sponsors included Barb and David Gifford, Vicki and Doug Hill, Karen Keske, Yolanda Perez-Cunningham and Gary Cunningham, Suzanne and Mike Pratl, Dawn and Rod Thomas, Edward Jones, First Bank, Mercy, and US Bank. Other supporters were Aberdeen Golf, Berry Hill Golf, Family Golf Center, Elder Manufacturing, The Landings, Meadowbrook Country Club, Normandie Golf, Probstein (Forest Park) Golf and Riverside Golf.
Proceeds of this event support the many programs of Assistance League of St Louis which last year touched the lives of more than 34,000 children and adults in the St. Louis area.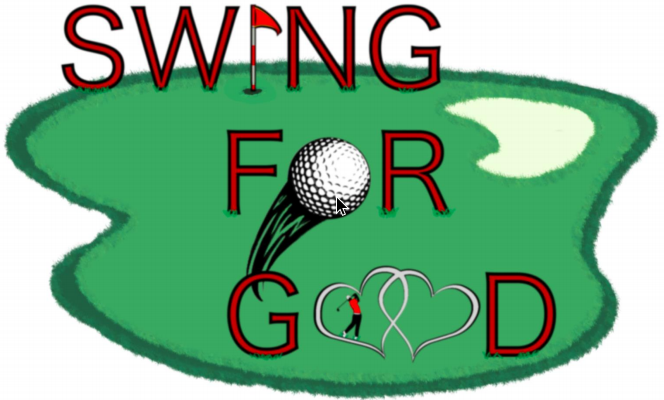 "SWING FOR GOOD," ALSTL's Newest Fundraiser!
TOPGOLF ST. LOUIS, 16851 N. Outer 40 Rd, Chesterfield 63005
SUNDAY, JUNE 13, 1-4 p.m.
We welcome you to join in the excitement, as we RAISE our golf clubs to RAISE funds and support our programs! Join us at TOPGOLF ST. LOUIS on June 13! SWING FOR GOOD and help our volunteers reach out to this deserving community. See more details and print an RSVP card. The deadline for reservations is May 15!
For over 30 years, ALSTL member volunteers have touched the lives of our neighbors in need. Even in the difficult year behind us, ALSTL volunteers found creative ways to listen, to learn and to assist. Masks and social distancing requirements never stopped our fearless volunteers. They are creative and brave and work tirelessly to touch the lives around us. They MAKE A DIFFERENCE in the best or worst of times!
The date may be June 13th but your lucky number is 6! $600 reserves a bay for 6 golfers. Bay includes lunch, soft drinks and 3 hours of golf! Enjoy a glorious afternoon outdoors, facing the wide eastern sky and breathing in fresh springtime air. Don't delay because the bays sell out fast!
Plus: 13 luxury surprise baskets! Purchase tickets for the drawings! Each one is filled with must-haves for golfers and 19th-hole lovers alike! Opportunity Tickets for drawings SOLD ONLY at the ALSTL TOPGOLF ST. LOUIS event on June 13!
If you can't join us June 13, please consider making a contribution to ALSTL by completing the donation information on the RSVP card. Join us in our mission to assist the incredible community that we all share!
Assistance League is pleased to feature international best-selling author of historical novels, Alyson Richman, at our 16th annual Authors Brunch, "Living with a Full Heart," at 11 a.m. on Saturday, April 24.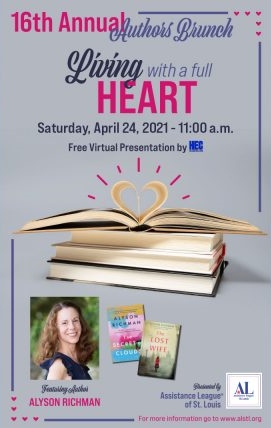 The event will be presented by HEC media via this link and will be available to view in the future:
https://hecmedia.org/posts/living-with-a-full-heart/
The link can be shared with friends and family, but the presentation will not be made available until Saturday morning at 11 a.m.
This annual fundraising event will be virtual with no charge to view. However, you may make a donation by printing and completing a Reservation Card. You may charge the amount or mail a check with your form.
The Lost Wife and The Secret of Clouds are also on sale for $16 each. Simply print an order form and mail as instructed.
We look forward to this very special and exciting time together!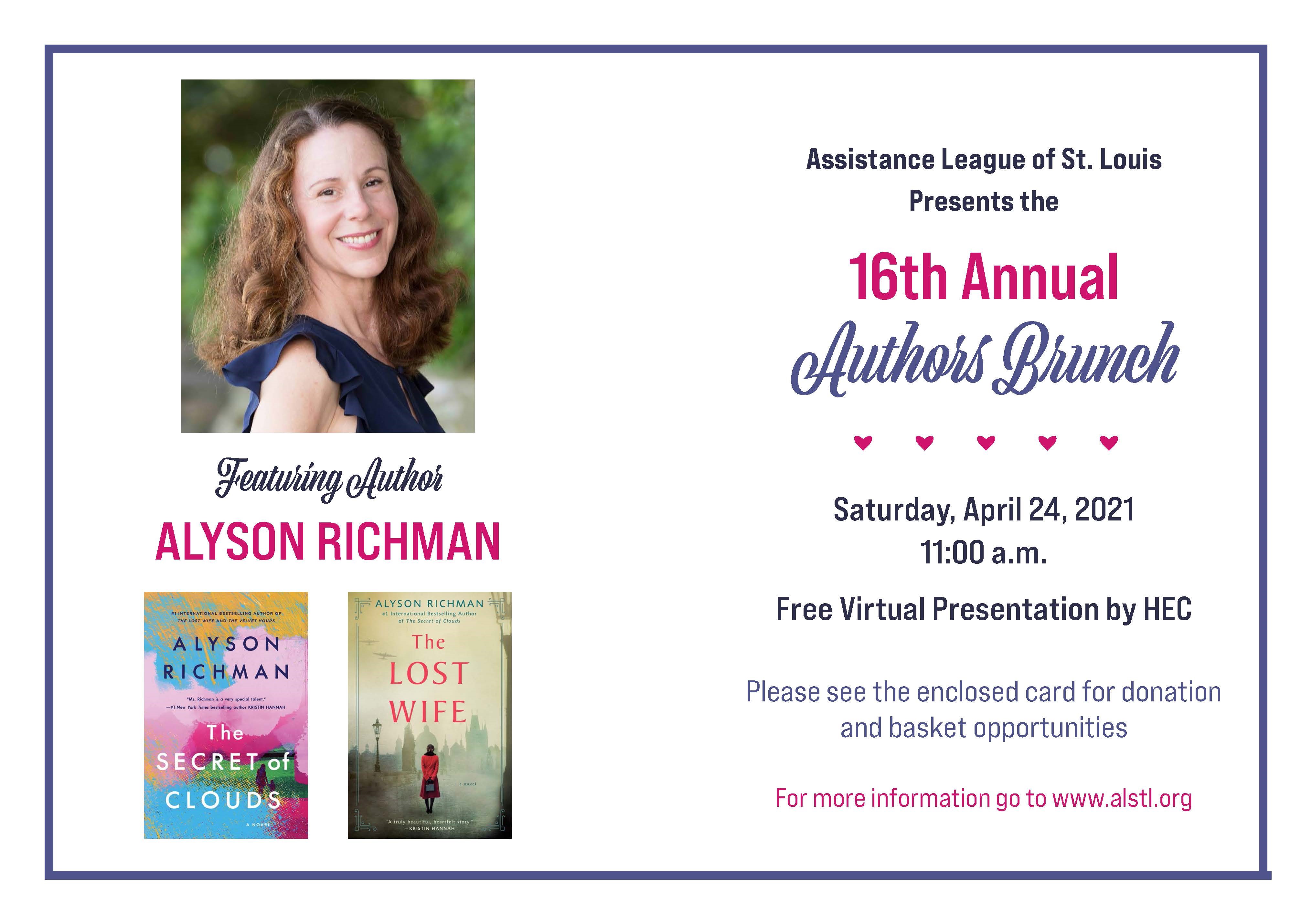 Assistance League is pleased to feature international best-selling author of historical novels, Alyson Richman, at our 16th annual "Virtual" Authors Brunch, "Living with a Full Heart," at 11 a.m. on Saturday, April 24. Some of Richman's best-known novels include The Lost Wife, The Velvet Hours, The Garden of Letters, The Last Van Gogh, The Rhythm of Memory and The Mask Carver's Son. Her books have been published in more than 20 languages and have received national and international acclaim. (Meet our author on YouTube.)
This annual fundraising event will be virtual with no charge to view! However, you may now register to participate by completing a Reservation Card.
On the front of the form, you can choose to make sponsorships, donations, and purchases.
On the back of the form is a list of six lovely opportunity baskets. You can purchase chances for the baskets you'd like to win. See the photo presentation of the baskets to help you decide which ones to pick.
Print the form, complete it and charge the amount or mail a check with your form.
The Lost Wife and The Secret of Clouds are also on sale for $16 each. Simply print an order form and mail as instructed. We look forward to this very special and exciting time together!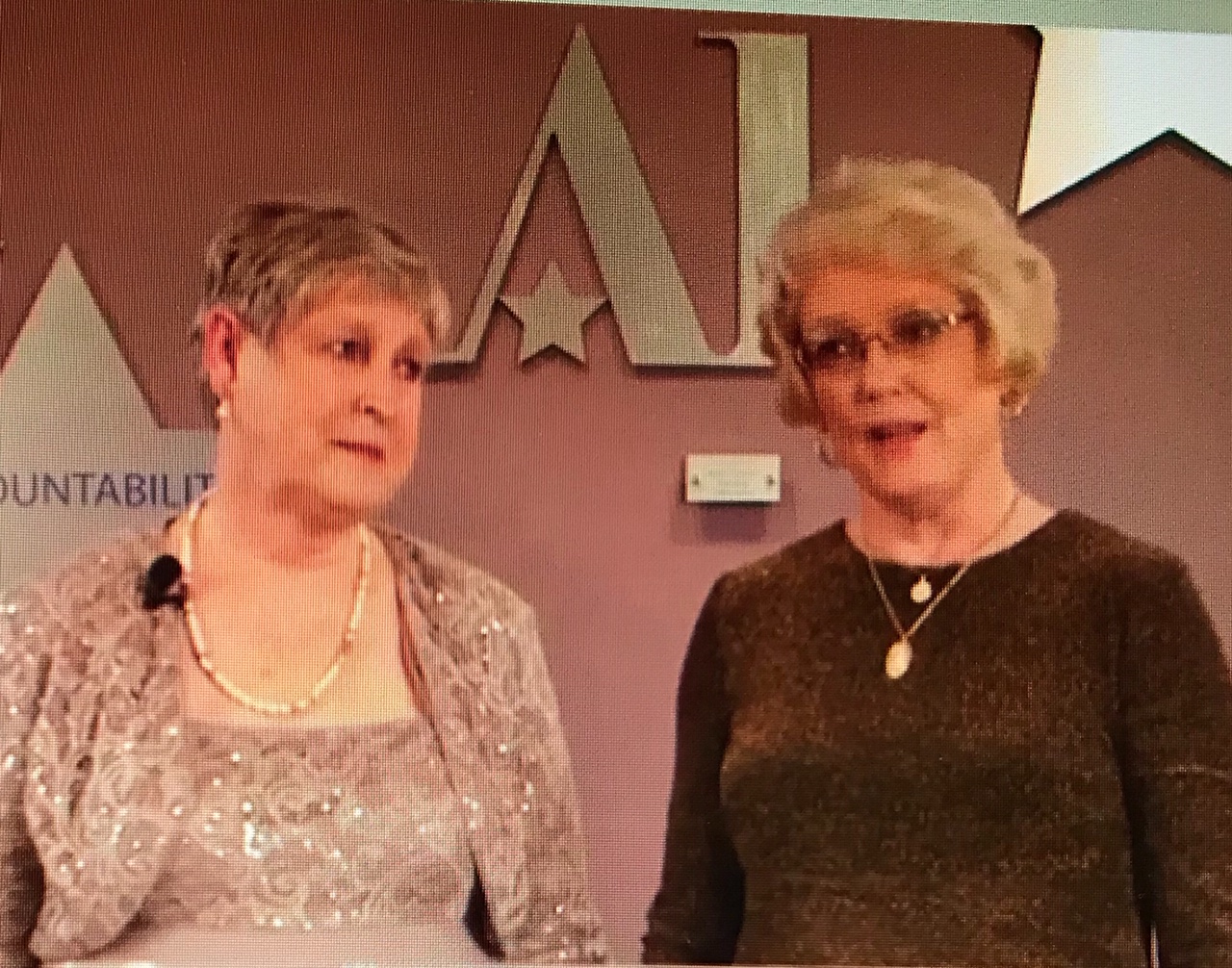 The only thing virtual about Imagine!, Assistance League of St. Louis' largest annual fundraiser on November 7, was that for the first time, it was live-streamed and held virtually. The reality is that an entire year of preparation and hundreds of member volunteer hours made it happen. The anticipation, excitement and enthusiasm were real. An incredibly talented, tireless team made this virtual fundraising event a reality. Every detail was selflessly executed by Assistance League members, always goal-oriented, intent on success.
Co-Chairs Mary Price and Maureen Swingle (pictured above) hosted and presented the lively, fast-paced one-hour event with wit and charm, creating their own reality show.
GiveSmart handled cell phone bidding for all fundraising activities, which included the Live and Silent Auctions, Ring the Bell, Wine Pull and Buy It Now. Bidding was made available five days before Imagine! The Live Auction was preview only. "Cell phone but no evening wear required" was a new, relaxed and welcome change this year.
Professionally filmed by TSV Sound and Vision, video guest speakers Dr. Art McCoy, Superintendent of Jennings School District and Jeffrey Rhone, Director of the Office of Family & Community Engagement for the St. Louis Public Schools, provided personal testimonials. KSDK Ch. 5's Rene Knott returned to MC "Ring The Bell."
Imagine! exceeding all expectations, "A Gift of Love" raised $208,800. This incredible gift received by Assistance League of St. Louis will become "A Gift of Love" given back through our programs to the St. Louis community.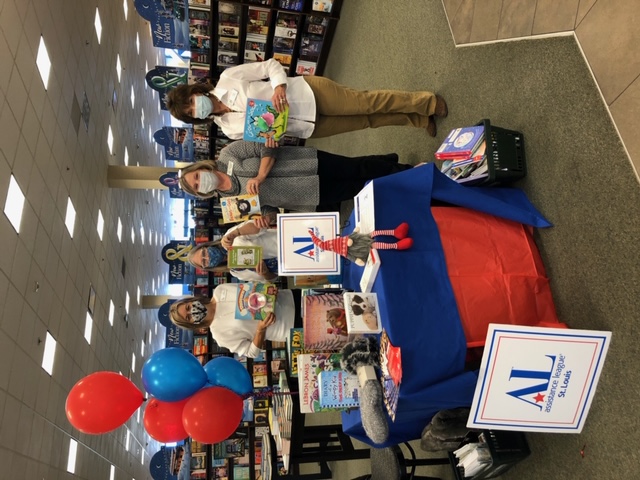 Barnes & Noble West County Store has generously chosen Assistance League of St. Louis as their non-proft to benefit from a Book Drive to take place now through December 12.
When you make a purchase, at checkout you will be asked if you want to donate a new children's book to benefit AL's Books from Friends program. So far they have collected 820 new books for Assistance League!
Regular in-store shopping hours are from 10 a.m.-8 p.m. Monday through Saturday and 11 a.m.-6 p.m. on Sunday. Directions to the store available here.

Shop by phone by calling (314) 835-9980. Free curbside pickup is available.
WHY? Your purchases will help Books From Friends provide books to our aspiring readers and promote literacy in our St. Louis community!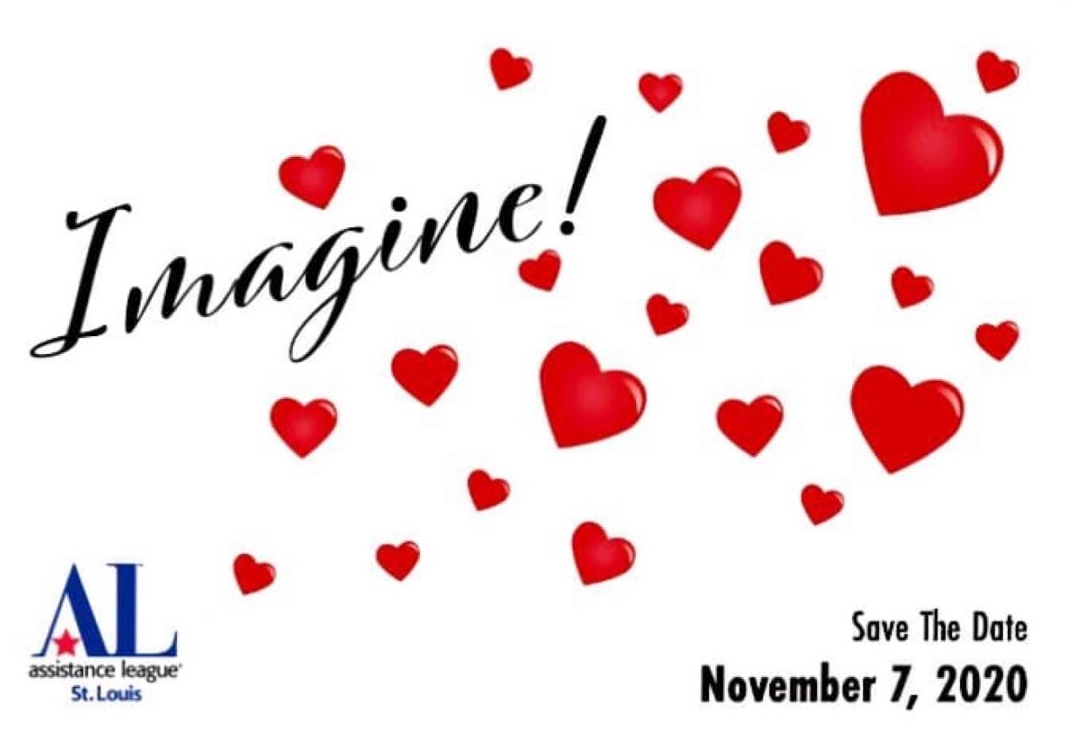 This year's Imagine! A Gift of Love will be brought to you "virtually" from 7-8 p.m. on Saturday, November 7, and the excitement is building! All are welcome to participate in this free, fun event to benefit Assistance League's philanthropic programs!
On November 7 at 7 p.m., you can view the event live on Assistance League of St. Louis' YouTube site or, for Facebook users, our Facebook page (Just click on either of the underlined links to view.)
We will offer Silent Auction baskets, a Live Auction, Ring the Bell, First Choice ticket sales, a Wine Pull, and Buy It Now restaurant gift cards using the GiveSmart application. There will also be an opportunity to make a monetary "gift of love." View a video which describes how the bidding /donation process will work through GiveSmart.
On or after November 2 at 9:30 a.m., you can register your credit card with GiveSmart at imagine20.givesmart.com so that you can immediately begin to view/bid on all the Silent Auction items and purchase First Choice tickets, Wine Pull and Buy It Now Restaurant gift cards! Don't delay...give yourself plenty of time to get set up and start shopping!
Live Auction items will also be shown in advance on GiveSmart so that the First Choice ticket buyers can view them. First Choice tickets will be sold for $100 each and the winner will be able to choose from ANY of the Live Auction prizes. Only 75 tickets will be sold, and the winner will be randomly selected and notified by phone on Saturday, November 7 at 3 p.m. If you purchase a First Choice ticket, please be near your phone at 3 p.m. so you can choose your package. That chosen package will be removed from the Live Auction which begins at 7 p.m. on Saturday night. The Live Auction and Ring the Bell events will take place between 7 and 8 p.m. on Saturday evening.
Get ready for a wonderful evening to enjoy in the comfort of your home, and watch as we work toward our fundraising goal of $250,000! We can do it with your help!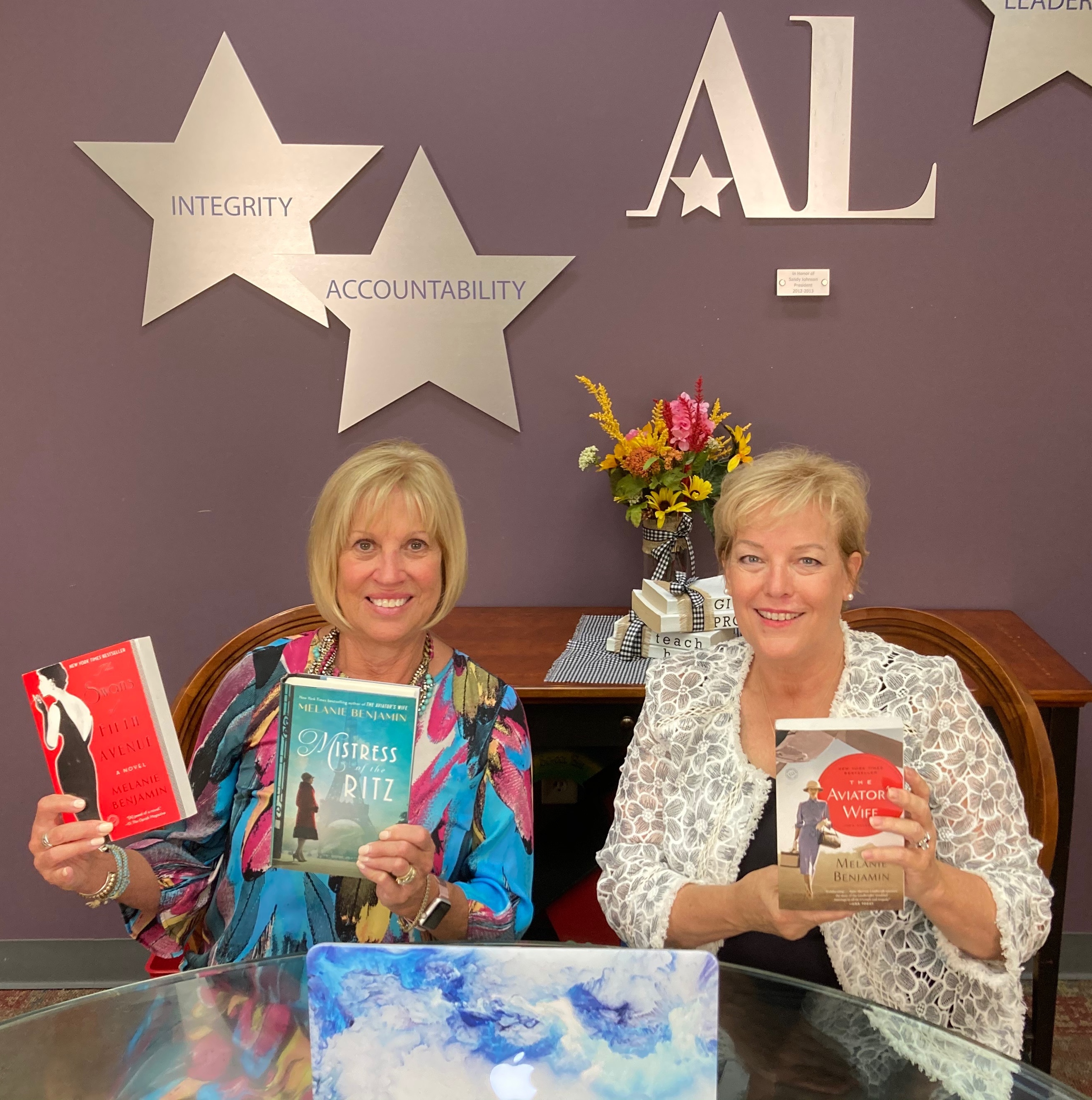 Assistance League of St. Louis President Dawn Thomas (right) and Debbie McConnell, who chaired Assistance League's 15th annual, first-ever "virtual" Authors Brunch, show off novels written by the event's featured author, Melanie Benjamin. The books were on sale at the August 8 event---one of two major fundraisers for Assistance League.
The 2020 Authors Brunch attracted interested readers who heard a lively and informative virtual discussion with the author. Those who joined the event also participated in drawings for beautiful opportunity baskets filled with restaurant gift cards, jewelry, cooking tools, designer accessories, personal pampering goodies and the ever-popular money tree. View a recording of the entire event!
Melanie Benjamin is the author of the New York Times and USAToday bestselling historical novels, the Swans of Fifth Avenue, about Truman Capote and his society swans, and The Aviator's Wife about Anne Morrow Lindbergh. Her novels have been translated in over 15 languages, featured in national magazines such as Good Housekeeping, People, and Entertainment Weekly, and optioned for film.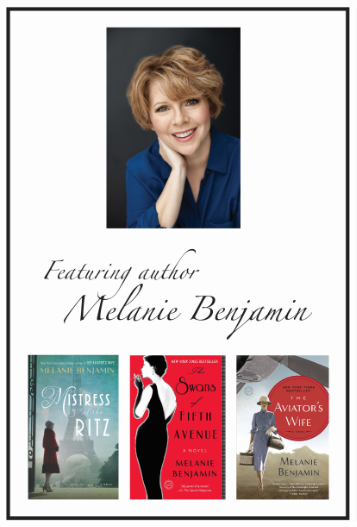 View a recording of 2020 Authors Brunch held on Saturday, August 8
Hear Melanie Benjamin, New York Times bestselling author of historical fiction

* Here is the link to view the entire hour of discussion and fun! This virtual event was produced by HEC Media.
* Hear who won each of the amazing Opportunity Baskets!
* Melanie Benjamin's books are still for sale and available with an authentic signature label at Assistance League's office or contact Debbie McConnell, This email address is being protected from spambots. You need JavaScript enabled to view it..

* Paperbacks (Aviator's Wife and Swans of Fifth Avenue) are $16 and the hardback (Mistress of the Ritz) is $28.
Virtual Presentation by: