Events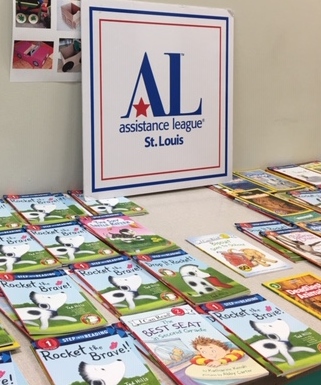 Assistance League of St. Louis volunteers on April 24 packed a truck carrying 1,500 new books for pre-Kindergarten to 8th graders. The books will be distributed by the Urban League of Metropolitan St. Louis, when the Urban League hands out more free meals. Urban League has been hosting drive-through giveaways at locations in the city of St. Louis and Metro East since early April, giving out food and cleaning supplies to thousands of families.
Along with the books, Assistance League included in the Urban League toys donated by Barnes and Nobel of West County, 100 hygiene kits and professional clothing for women and men entering the job market. This contribution follows Assistance League's October 2019 delivery of 42 women's suits, infant and toddler clothing, 6 bags of canned goods for the Urban League food pantry plus formal wear for proms.
Later this summer, Urban League will be conducting a version of its annual Back to School Expo, where Assistance League will be supplying over 3,000 books for the deserving children who attend.
"Collaborations like these demonstrate the willingness of the strong non-profit community in St. Louis to work together to continue serving our most vulnerable residents during these trying times," said Assistance League President Jane Harbron.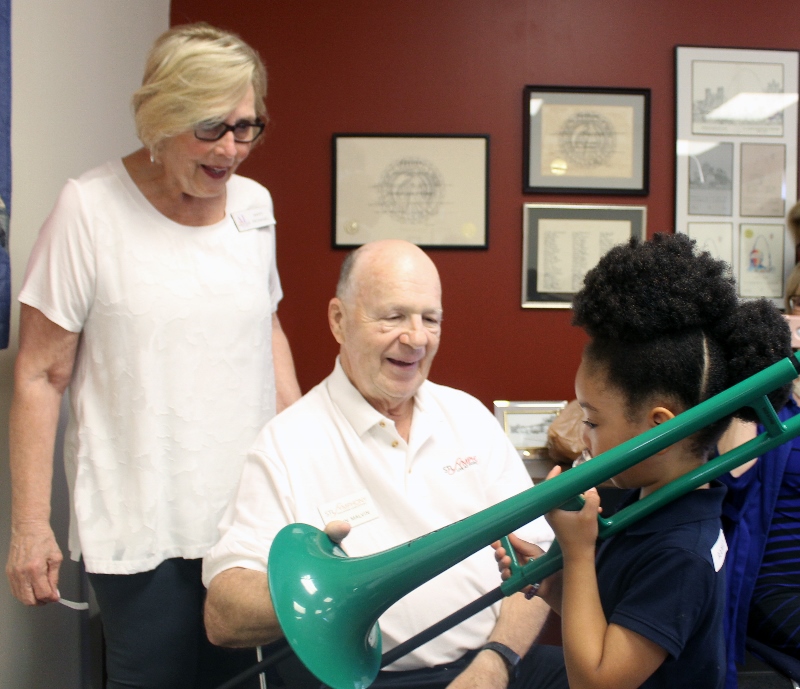 ALSTL member Mary Reinagel of Ballwin (left) watches as a student learns about playing the trombone from John Malvin (right) of Collinsville, Il., was among 13 St. Louis Symphony Orchestra Volunteer Association Members at Assistance League of St. Louis' third uniform fitting on Thursday, August 29. The SLSO volunteers demonstrated how to play orchestra instruments to 60 Kindergarten through fifth-grade students from Woerner Elementary School in South St. Louis, while the children waited to be fitted for uniforms.
On August 27, Assistance League member volunteers began fitting children from 33 schools. Fittings are scheduled over 60 dressing days and end in late January. School children are coming for fittings from the school districts of Ferguson-Florissant, Hazelwood, Jennings, Normandy and St. Louis City. Each year, through its Operation School Bell® program, Assistance League volunteers contribute 5,700 hours to the program.
Read more: A First! St. Louis Symphony Orchestra Volunteers Help Students Make Music!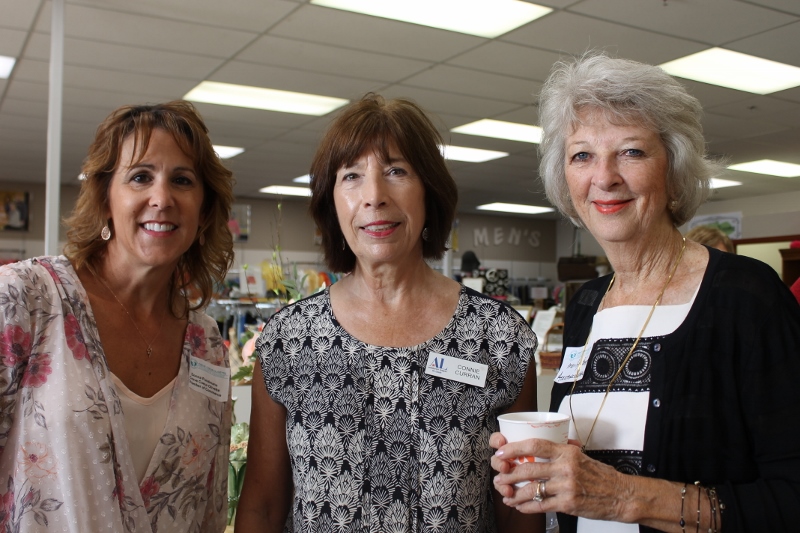 More than a dozen Creve Coeur-Olivette Chamber of Commerce members checked out the Assistance League of St. Louis' upscale resale shop to celebrate the Aug. 9-11 Fifteenth Anniversary of the shop. Pictured here are (left to right): Donna Pundmann, Creve Coeur-Olivette Chamber staff member, and ALSL members Connie Curran and Marilyn Panter.
At Fantastic Finds, shoppers find great bargains on high quality clothing, accessories, furniture, housewares and seasonal items. The anniversary event included a drawing for gift certificates and refreshments—plus great buys. Named a 2019 St. Louis Magazine A-List resale shop, Fantastic Finds supports ALSL's nine philanthropic programs that provide everything from new school uniforms to shoes and socks to deserving students to personal care items for crisis shelter clients—touching the lives of 50,000 St. Louisans each year.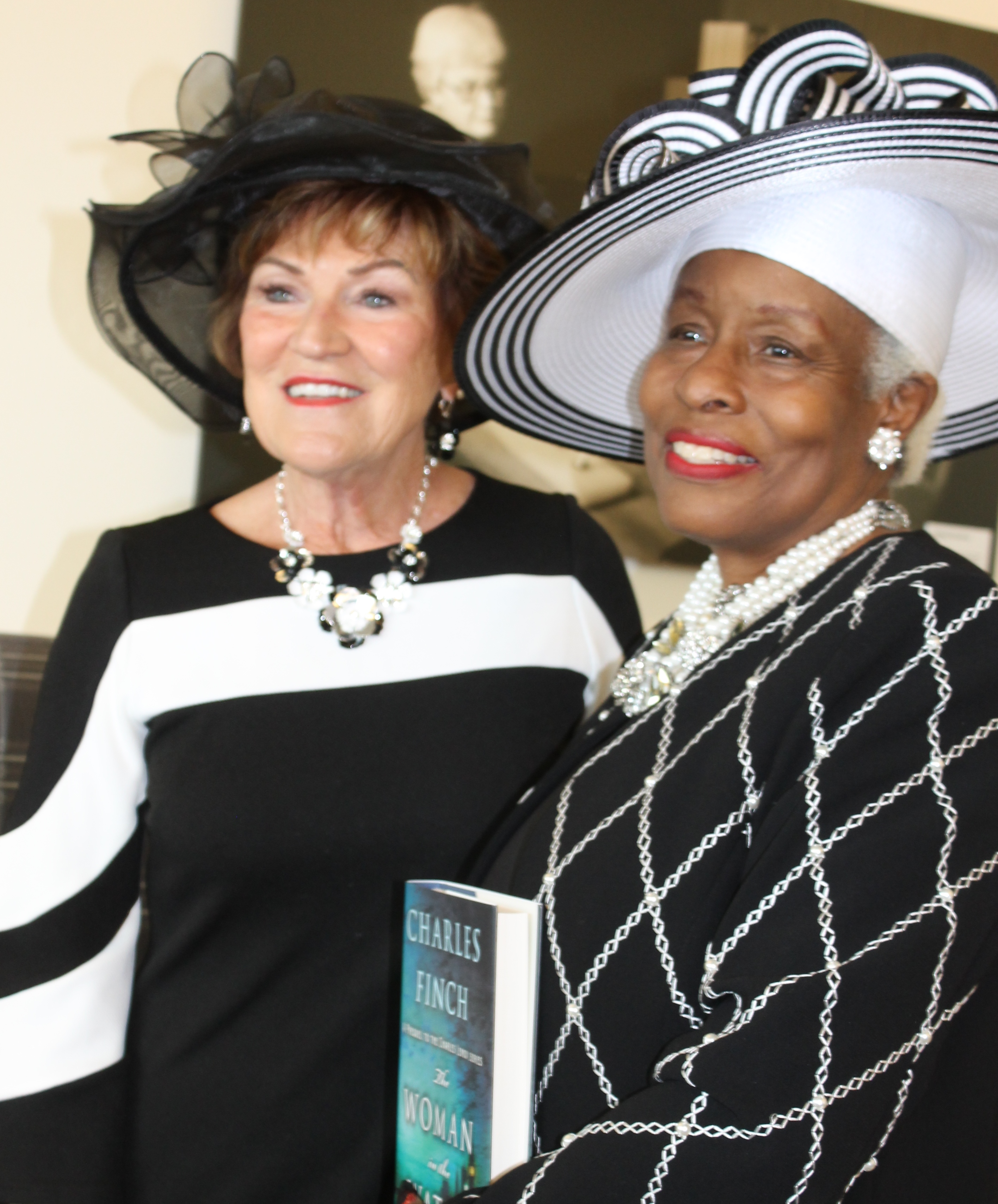 On Saturday, April 13, Mr. Charles Finch, internationally acclaimed author of 12 murder mystery books set in the Victorian/Edwardian era, captivated a sold-out audience of 400 with his many tales of life in mid-19th century England.

Held at the beautiful Atrium of Edward Jones in Des Peres this 14th annual Authors Brunch event sponsored by Assistance League of St. Louis featured A Magical Mystery Tea that recreated the atmosphere of that timeframe.

Guests were treated to a typical English tea complete with scones, dainty finger sandwiches and fancy pastries in beautiful table settings, which included Victorian teapot-centerpieces. Many guests wore veiled hats and bustled gowns adding to the overall Victorian aura.