Operation School Bell
Helping Students in the Classroom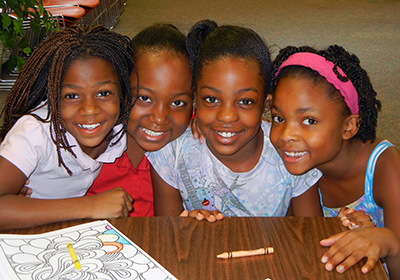 Clean, new, well-fitting school uniforms help create positive outcomes for students and their learning. Operation School Bell, the largest Assistance League of St. Louis program, helps provide new uniforms to school children in need.
Each child receives the attention of a caring volunteer, who helps find the perfect fit. The volunteers love seeing the wonderful smiles on the children's faces, and the children leave with new uniforms and a new sense of pride.
Assistance League volunteers are looking forward to serving 30 schools in the 2018-2019 school year beginning August 15. We will be dressing 60 students per day for 60 dressing days.
For more information on Operation School Bell, please This email address is being protected from spambots. You need JavaScript enabled to view it.. You can also make a donation to Assistance League specifying Operation School Bell anywhere on this site.
Operation School Bell® Chalks Up Impressive Stats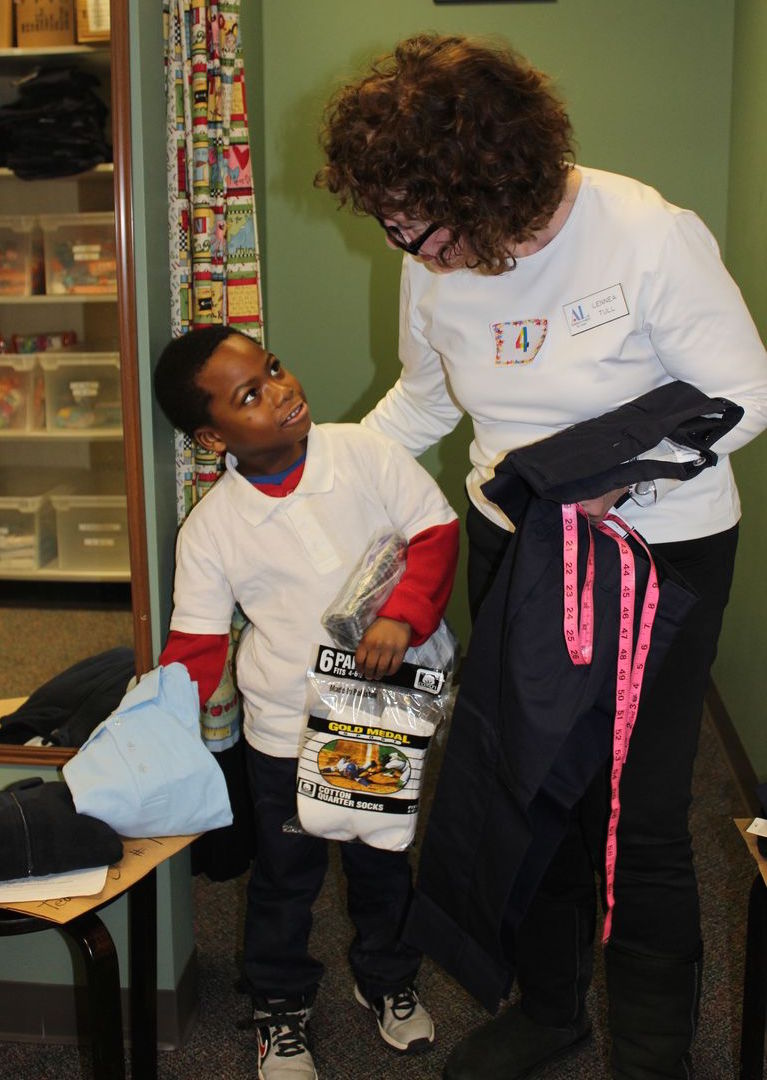 Operation School Bell had another successful year in 2017-2018! Volunteers brought smiles and a sense of pride to nearly 7,834 St. Louis area students in 6 school districts who received crisp new uniforms during our 57 dressing days. Each student was carefully fitted by an Assistance League® volunteer and was given two pairs of pants, two short-sleeve and one long-sleeve shirt, one fleece jacket, socks, underwear, a toothbrush, toothpaste and a book of their choice. As in past years, children waiting their turn for the dressing rooms enjoyed a variety of arts and crafts, wrote cheerful messages to hospital patients and were treated to a delightful magic show by one of our talented members
In addition to serving students of our partner schools, Assistance League of St. Louis provided uniform clothing to nine social service agencies--including Mathews-Dickey Boys and Girls Club and Jackie Joyner-Kersee Center--during the year. At the end of the year, remaining inventory, along with navy blue shorts and hygiene kits, were given to a number of schools and agencies for distribution to select children in need. To read a powerful testimonial about the impact of our donations to Sumner High School, click HERE.
Thanks to the many Assistance League volunteers, headed by OSB Chairman Pam Bogosian, as well as the school teachers and administrators who made the program run so smoothly again this year. A total of 5,700 volunteer hours were given to Operation School Bell in 2017-2018!
We work so hard in the classroom. But we can't do our jobs unless we have our students in the right clothing, fitting well and having their social/emotional needs met.
-from a school principal