Project ROSE
Raise Our Self Esteem
Can you imagine having to leave your home in the middle of the night to protect yourself or your children? Many women who seek the protection of a shelter do not even have their own shoes or a purse when they arrive. Project ROSE provides personal care items, clothing and household items for these women and their children. These items are delivered monthly to shelters by our own volunteers. In 2017-2018 we served 3,587 women and children in shelters. Since 2001, we have contributed to the well-being of 21,800 women and their children.
But these gift bags don't just provide personal necessities. They allow women to feel special once again. It's just a little self-esteem that Assistance League provides—self-esteem that helps the healing. For more information on ROSE, please contact us. You can also make a donation to Assistance League specifying ROSE anywhere on this site.
Miss Elaine Brings Comfort and Joy to ROSE Recipients
When stress is high at the end of the day, what could be better than a soft, cozy new nightgown, bathrobe or pair of pajamas to bring a little comfort? Thanks to the wonderful Miss Elaine family and their generous donations, Assistance League of St. Louis has been able to assist tens of thousands of women and children in the St. Louis community for more than 15 years.
In the past year, Miss Elaine, the popular sleepwear manufacturer based in St. Louis, donated approximately 1,000 items to Project ROSE. The loungewear is distributed to Magdalene St. Louis and four abused women's shelters: Bridgeway Women's Center, Kathy J Weinman Shelter, St. Martha's Hall and Women's Safe House. Smaller sizes are also donated to deserving children at Annie Malone Children and Family Services, Innovative Concepts Academy, Marygrove and in the Jennings, Normandy, Ferguson-Florissant and St. Louis Public school districts.
Together with generous community partners such as Miss Elaine, Assistance League will continue to bring little extra comfort and joy to thousands of individuals in the the St. Louis community each year. Many thanks to Project ROSE chairman Linda McMillan and her dedicated volunteers who organize, pack and deliver the cheerful bags.
ASK® Kits Help Sexual Assault Victims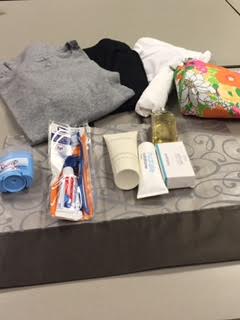 Always seeking more ways to serve our community, Assistance League of St. Louis has introduced a pilot project through Project ROSE which provides Assault Survivor Kits (ASK®) on a monthly basis to the YWCA Women's Resource Center and its St. Louis Regional Sexual Assault Response Teams (SART). YWCA SART volunteers provide counseling, support, information and resources to sexual assault victims in local hospital emergency departments.
Thanks to Project ROSE's ASK project, volunteers are now able to distribute kits containing much-needed clothing and personal care products to these victims in crisis. SART operates 24 hours a day, seven days a week, and serves more than 400 women a year.
The ASK project is a National Assistance League program. It will be evaluated over several years to determine whether it is fulfilling its intended purpose and is effectively meeting the needs of the St. Louis community.
If a woman comes in to the shelter with nothing, she starts to think, "I probably should go back." The pink bags help a woman feel good about herself. They have personal hygiene items, new slippers and pajamas.
-from a shelter administrator