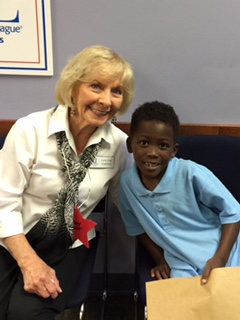 Operation School Bell's quarter-century year has a silver lining! The 2015-16 school year dressing days just ended in January, and over 3570 young students received fresh, new uniform pants, shirts, socks, underwear AND a book of their own to keep.
For each one of 58 dressing days since August 23, the smiling faces of more than twenty Assistance League volunteers have greeted 60 energetic schoolchildren from 27 different schools. With kindness and care, the dedicated volunteers of Operation School Bell (OSB) patiently measure and dress each child in new uniforms. Additional volunteers educate and entertain children with learning activities, laughter and fun, as they await their fittings.
Respect and cooperation between school administrators, teachers and volunteers make the challenging work of OSB seamless. Shared dedication, hard work and tireless commitment to the children we serve make it a success.