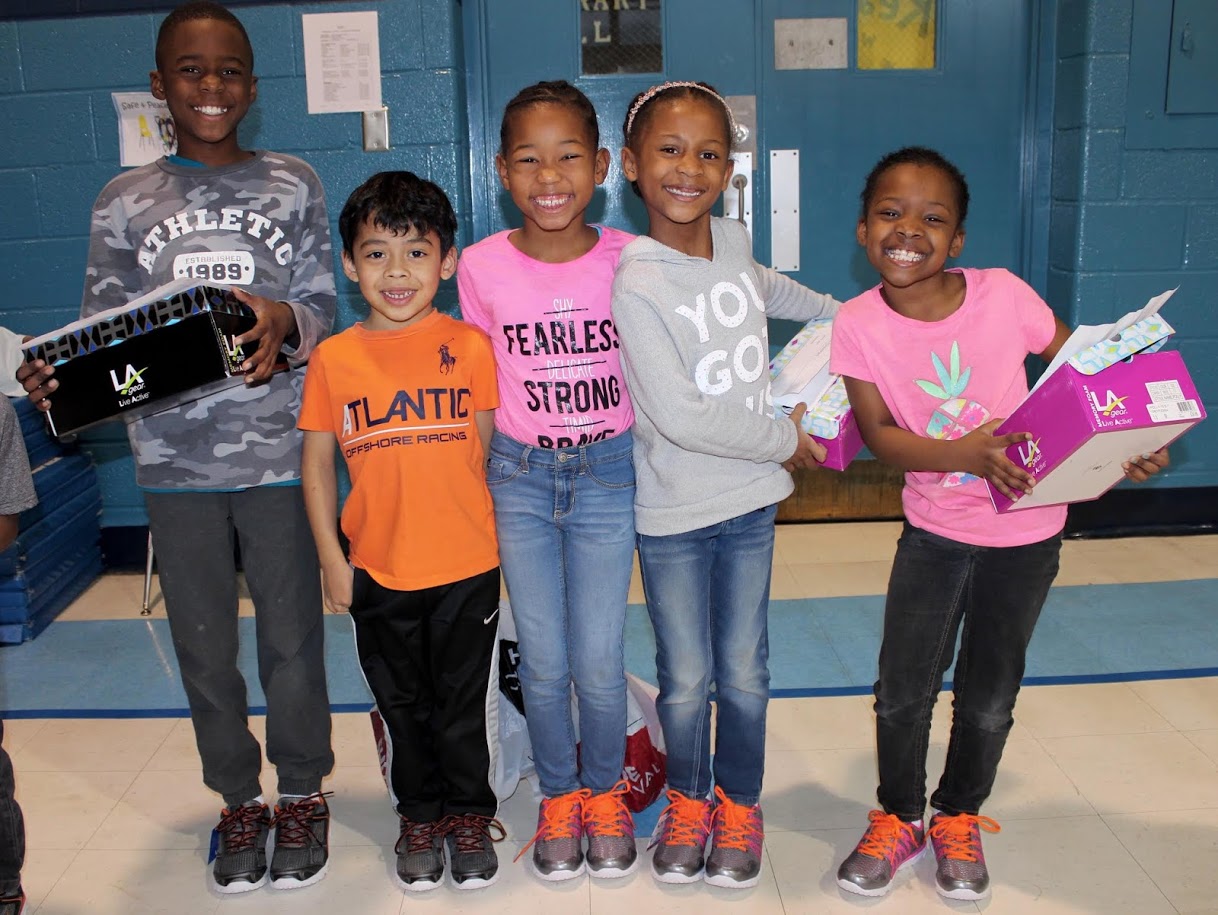 The volunteers of Assistance League of St. Louis give of their time and talents each year to benefit the Steps to Success program, providing students new shoes and socks, as well as a sense of pride. Our volunteers' organized, energetic, patient and good-humored spirit provided a solid foundation for yet another successful school year!
The statistics of 2017-2018 reflect their accomplishments: 348 volunteers gave over 2,653 hours to meet, greet, measure and put shoes on the feet of delighted students during their visits to 34 St. Louis area schools. Students were fitted with 3,700 pairs of shoes and over 11,100 pairs of socks. All the students were excited about their choice of style and color! Students were eager to try out their new shoes and appreciated how comfortable they would be and how fast they would run in their new athletic shoes. Having these new shoes will support their efforts to be active in school events and approach them with a confident attitude.
The Magic House in Kirkwood was the destination for the second Steps to Success Discovery Day Event. Eighty-six volunteers welcomed 150 students from the Larimore School. Their day was filled with learning and fun at various work stations in the museum, lunch and animal cracker snacks. In addition to this wonderful experience, each student was fitted for a new pair of shoes, received socks and was able to take home a book as a permanent reminder of a delightful and educational day. It was a high-energy day for both volunteers and students, filled with laughter and smiles.
Among the 34 area schools that Assistance League volunteers visited, five were new to the program. Our new partners this year included Barack Obama in Normandy, Arrowpoint in Hazelwood and three charter schools: Ames VPS, Eagle College Prep Fox Park, and Eagle College Prep Tower Grove South. For the second year, Steps to Success provided shoes and socks to the Students in Transition agency which supports homeless students in the City of St. Louis. The donation included 100 pairs of shoes and 300 plus pairs of socks. Ackerman School in the Special School District was also given 100 pairs of shoes and 300 plus pairs of socks.
Assistance League volunteers enthusiastically acknowledge that the impact of the Steps to Success program is immensely facilitated by the discount given on our shoe purchases by Shoe Carnival through their philanthropic outreach. We also thank Shoe Carnival for their donation of staff and time to ensure that all of the students get the best fit and desired athletic shoes for a positive year.
"Life affords no higher pleasure than that of surmounting difficulties, passing from one step of success to another, forming new wishes and seeing them gratified." Samuel Johnson