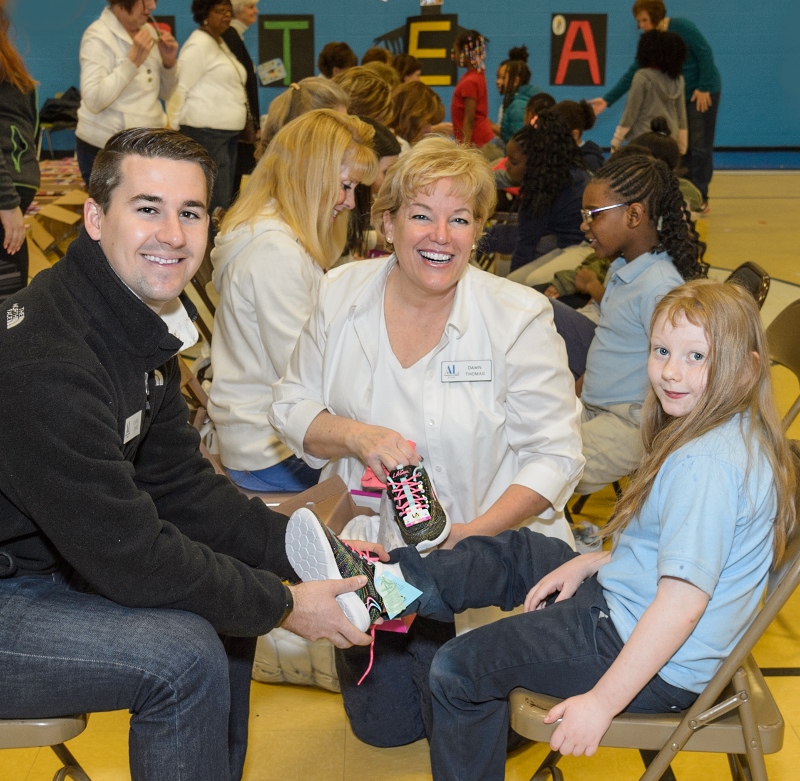 Assistance League of St. Louis Steps to Success recently wrapped up their spring session at Marvin Elementary in the Ritenour School District, where volunteers provided new athletic shoes and three pair of socks to deserving children. Fittings happen annually in the fall and spring. During the 2018-2019 season, Assistance League volunteers visited 37 schools in 8 school districts—providing approximately 3,700 St. Louis area school children with new athletic shoes and socks.

In the photo above, Assistance League volunteers Chris Zang and Dawn Thomas help fit children with new shoes at Larimore Elementary School in Hazelwood.
Each fitting day, 20 to 30 Assistance League volunteers traveled to three elementary schools to fit school children with a pair of the latest styles and colors in athletic shoes. "Many of the children we fit are wearing incorrect shoe sizes or shoes that allow their feet to get wet and cold," said Assistance League of St. Louis President Roxie Randolph. "The comfort and fun of having new socks and shoes is unmistakable when you see the big smiles on the children's faces. This program provides so much to a child's self-esteem." Assistance League's philanthropic partner, Shoe Carnival, provides invaluable help in the form of two or three employees who work alongside Assistance League volunteers each fitting day.