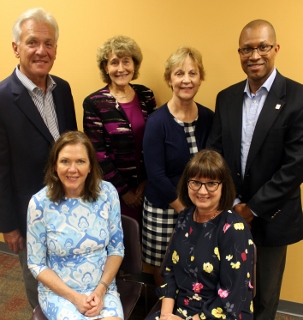 Assistance League of St. Louis President Jane Harbron today announced recently elected members of the nonprofit organization's first Advisory Council. "These talented business and community leaders, who are representative of the thousands of St. Louisans Assistance League serves, will offer needed advice and support to our board," said Harbron. "They will be involved in a range of areas from program development to fundraising, finances and governance."
Pictured above, (L-R) standing: John Beuerlein, Judy Murphy, Ann Bauer, and Stacy Clay; seated Claire Hundelt, Frankie Eichenberger
The new members are:
• Ann Bauer, Attorney, The Center for Family Law
• John Beuerlein, General Partner, Retired, Edward Jones
• Stacy Clay, Senior Vice President, Director of Community Affairs, First Bank,
• Frankie Eichenberger, Executive Business Leader and Gallup-Certified Strengths Coach -- retired Senior Vice President, U.S. Bank
• Claire Vatterott Hundelt, Executive Director, Marillac Mission Fund (formerly Daughters of Charity)
• Judy Murphy, CPA and Partner, RubinBrown LLP
See below for short bios on each member.
Newly Named Members of the Assistance League of St. Louis Advisory Council:
Ann Bauer, of Clayton, is a family law attorney and a partner of The Center for Family Law firm, with offices in Clayton and St. Charles. Bauer is very active in the legal community, having served on many boards and committees focused on improving the practice of family law and court services to families. She currently serves on a St. Louis Family Court Mediation Oversight Committee and is a member of the Domestic Violence Council of St. Louis County. She has volunteered for Legal Services of Eastern Missouri for many years, receiving a volunteer award from them in 2001. In 2012, she earned the Pro Bono Service Award from The Missouri Bar Association. In 2013, she was named the Family Law Practitioner of the Year by the Missouri Bar Family Law Section. She serves on the board of the YWCA of Metropolitan St. Louis.
John Beuerlein, of Clayton, is Retired Partner for Edward Jones in St. Louis—a position he held since 1976. A veteran of 43 years with Edward Jones, he earned an MBA from Washington University in St. Louis in 1977 and a CFA from the Institute of Chartered Financial Analysts in 1981. Beuerlein is a past member of the board of governors of the St. Louis Society of Financial Analysts. He served on the investment committee of Drury University's Board of Trustees and was Chairman of the Board from 2006 to 2010. Beuerlein was inducted in the Breech Hall of Fame at Drury University in February of 2008 and was awarded an Honorary Doctor of Humane Letters degree from Drury in 2013. He is a past trustee of the board of Washington University and currently serves as the National Chair of the Gephardt Institute for Community and Civic Engagement.

Stacy Clay, of University City, is Senior Vice President and Director of Community Affairs, First Bank. In this role, he focuses on growing the impact of First Bank's community outreach efforts. He joined the bank in 2018, after more than five years' experience as Deputy Superintendent of Student Support Services at the Saint Louis Public Schools. He is also the founding Executive Director of College Summit in St. Louis—an organization providing college access resources for first generation college students. In 2018, he joined the board of YouthBridge Community Foundation, which works with professional advisors to offer philanthropy planning to their clients. Stacy Clay has served as President of the University City Board of Education, and in 2018, was elected a member of the University City Council.
Frankie Eichenberger, of the Central West End, City of St. Louis, retired as Senior Vice President/Regional Market Manager for U.S. Bank's consumer banking group. In that role, she led a team of nearly 800 branch employees and worked in the financial industry for more than 30 years. She is now a Certified Gallup Strengths Coach. She serves on the local advisory board for U.S. Bank and is a member of the Urban League of Metropolitan St. Louis Board of Directors and the Executive Committee. At the Urban League, she has served on the Membership, Audit and Finance committees, and she chaired the 2012 Urban League Annual Dinner Eichenberger also initiated the U.S. Bank Reading Star Program at the Urban League's local Head Start Centers. She is a member of the Women's Leadership Society of the Greater St. Louis United Way.
Claire Vatterott Hundelt, of Clayton, is Executive Director, Marillac Mission Fund (formerly Daughters of Charity of St. Louis) a program of Ascension, where she oversees charitable grant support to area nonprofit organizations. Before joining Marillac Mission Fund in 2012, she served as Interim Executive Director and Director of Program Services for the Nonprofit Services Center, and she directed the Sisters of Mercy Ministries, a charitable health-conversion foundation. For nearly 30 years, she has been a trustee with the Vatterott Foundation. She holds a Masters in Social Work degree from Washington University Brown School of Social Work and a bachelor's degree from St. Louis University. She is a field instructor for graduate-level students in social work at Washington University in St. Louis, Saint Louis University and the University of Missouri-St. Louis.
Judy Murphy, of the City of St. Louis, Certified Public Accountant, is a Partner of RubinBrown, LLP's Assurance Services Group and Chair of RubinBrown's Not-For-Profit Services Group. With more than 35 years experience, she primarily serves nonprofit clients providing audit, tax and consulting services. She is the recipient of the Gold Medal Award from the Missouri Society of Certified Public Accountants for achieving the highest score in the state of Missouri on the Uniform CPA Examination. The Saint Louis University John Cook School of Business honored her with its 2011 Joseph L. Davis, S.J., Alumni Merit Award. She has been extensively involved in the community, including service as a trustee of RubinBrown Charitable Foundation. She is a former member of the Audit Committee of the Archdiocese of St. Louis. She is also a former member of the St. Louis Fire Department Life Saving Foundation.