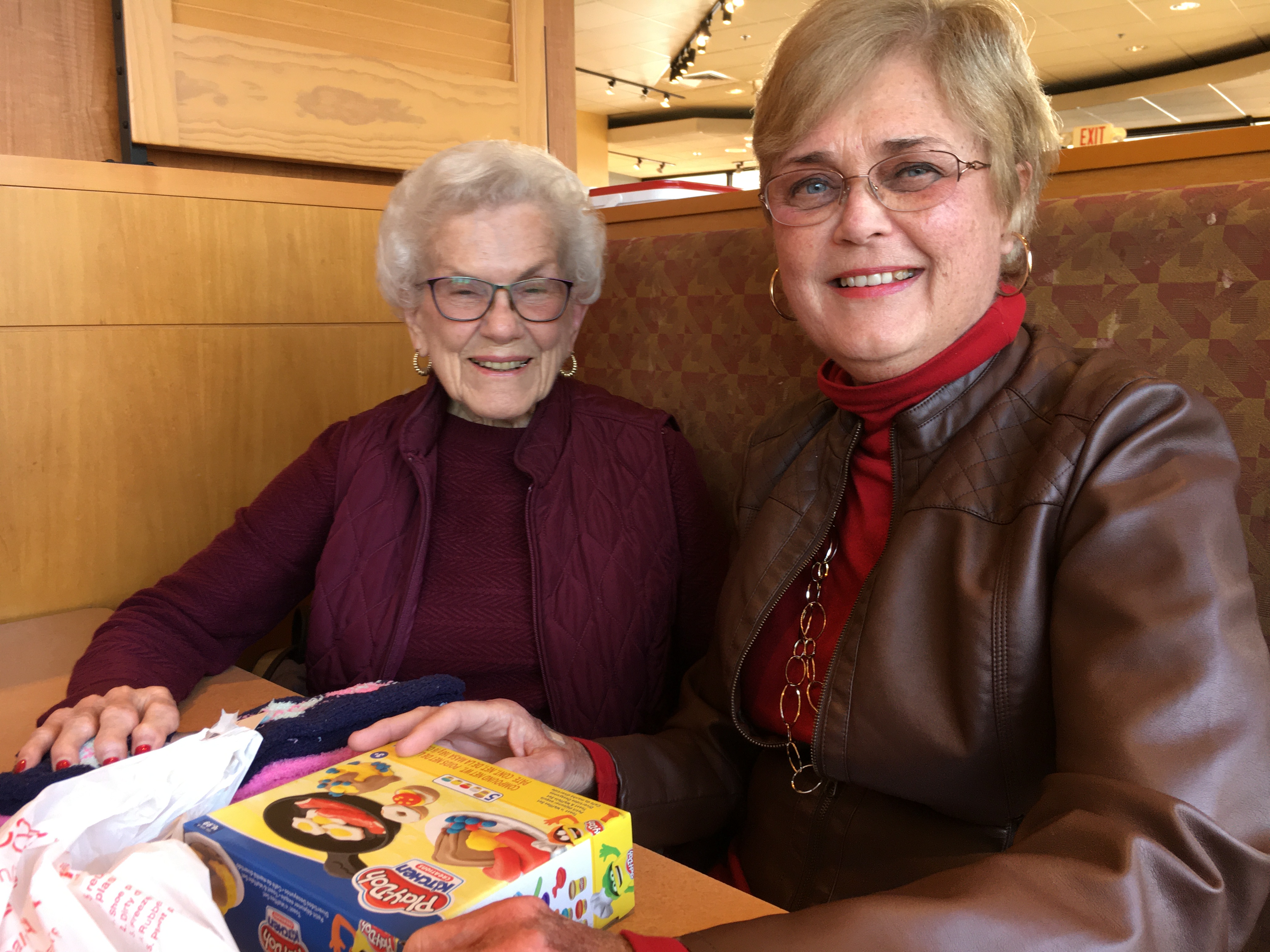 One of eight children from an Illinois farm family, this bundle of energy has lived in three states and traveled the world, but at 93, she is still primarily focused on doing good deeds.
A woman with a career until she was 86, Norma Jean Pew (pictured left) is an official Creve Coeur-Olivette Chamber of Commerce Assistance League of St. Louis "pal" working closely with ALSTL's own Mary Calcaterra (pictured right). Through the Public Relations Committee, Mary is focused on community outreach, attending myriad service club meetings to find partners and donors who will support ALSTL's nine philanthropic programs.
When Mary joined the Creve Coeur-Olivette Chamber, Norma had been an active member there for seven years. The two are part of a chamber networking group. However, Norma, as a chamber ambassador who helps onboard and mentor new members, also serves as Mary's ambassador. Norma works the room before each meeting to find likely contributors who need to hear about ALSTL.
Norma also has tapped her own contacts to solicit gifts for ALSTL. In December alone, she secured two large trash bags of new children's socks and 20 new toys for distribution to deserving children by turning to a firm called OsteoStrong-St. Louis and its owners, Johnny and Laura Harper. Norma knew the Harpers because she goes to OsteoStrong in Creve Coeur to strengthen her bones. The Harpers agreed to reach out to hundreds of their clients for contributions. The result? Hundreds of socks—plus toys for ALSTL.
Norma solicits these gifts because she knows what it means to go without. A child of the Depression, she grew up with no electricity or running water. During World War II, she left home to work in Shelbyville, Ill., for a hand grenade wiring manufacturer, and during the Korean War, she had a high-level security clearance, working for another defense contractor in Decatur. In the 1950s, she joined Caterpillar Inc., where she met her now-deceased husband. Norma is the mother of four children, and when she and her husband retired, they moved first to Branson, Mo., and then to Jonesboro, Ark. He fished. Norma worked in the hospitality industry for 38 years, and in Jonesboro, she became deeply involved in Civitan---in fact, she was governor of the Ozark District for Civitan International.
Founded in 1917 and based in Birmingham, Ala., Civitan is an association of community service clubs that aims "to build good citizenship by providing a volunteer organization of clubs dedicated to serving individual and community needs with an emphasis on helping people with developmental disabilities." The organization includes 40,000 members in almost 1,000 clubs around the world. Norma traveled to Estonia and Norway for Civitan international meetings.
But when her husband died, Norma moved to Creve Coeur, to be near a son and two of her three grandchildren. Once she settled in a condominium in Creve Coeur, Norma wanted to get involved in helping others by creating St. Louis' first Civitan. She joined the Creve Coeur-Olivette Chamber of Commerce to network for possible Civitan members. But after five years of hard work, Norma realized that the St. Louis area had 121 non-profit organizations, so she dissolved the club. At that point, Norma did not represent any organization or business and was about to leave the chamber, when chamber leadership prevailed upon Norma to stay on and continue to serve as a non-profit volunteer and ambassador. This role led to Norma's becoming Mary's "pal." They've become good friends, and ALSTL has benefited from having this 5-foot dynamo as its advocate, networker and cultivator of lots of gifts.