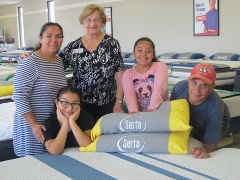 Assistance League of St. Louis has a long history of collaboration with social workers in schools and agencies throughout our community. These tireless workers share countless, painful stories with us about unmet critical, basic needs experienced by so many of our fellow citizens. Through our programs, we fulfill many of these needs.
-We helped a single mother of six who lost her job due to COVID-19 and needed help to set up her new home. We stepped in and provided not only beds and a kitchen table and chairs but genuine hope for better days ahead.
-We helped a family of five who lost everything in a fire and was sleeping on the floor. Assistance League provided beds, bedding, new clothes and dignity.
-Sometimes the needs are as simple as an alarm clock to help the family get to work and school on time, when they are struggling just to put breakfast on the table.
Assistance League strives to provide quick, compassionate solutions for the requests we receive. Unfortunately we can't answer every need. So, we are introducing an exciting and easy new way for you to help.

SHOP OUR AMAZON WISH LIST!

Here's how: At the top of this screen, click on GET INVOLVED. When you do, SHOP OUR AMAZON WISH LIST will drop down. Click on that and you will find a large variety of items to assist our programs in answering special wishes and urgent needs. We invite you to check out the list...it will be updated as needs arise and offers a range of prices.
Answering these needs and fulfilling these wishes make you an invaluable partner with Assistance League of St. Louis. Together, we will continue to make a difference in the lives of so many families and students in our great community.