Scout Creates Rainwater Garden, Goes for the "Gold!"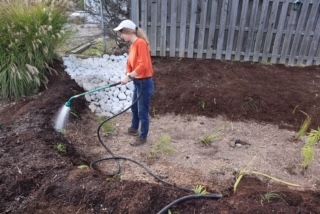 Troops in District 12 Neighborhood 2 of the Girl Scouts of Eastern Missouri, have provided over 6,600 books for Assistance League of St. Louis' (ALSL) Books from Friends program, which brings books to nearly 14,000 deserving children annually.
The scouts also recently made tie blankets and scarves for ALSL's Project ROSE (Raise Our Self Esteem) program, which provides a range of items to women and children in shelters.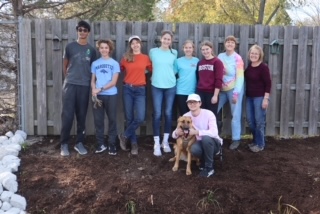 Scout Lauren King (pictured above), an Ambassador Girl Scout at Marquette High School, headed up another project with ALSL as she worked to earn her Gold Award. The Gold Award is the highest and most prestigious award that Girl Scout Seniors and Ambassadors can earn. Projects need to identify a community issue, create a lasting impact and ensure sustainability. King developed a Rainwater Garden project that met those requirements under the guidance of Bev Pettit, Landscape Chairman at ALSL's headquarters.
King assembled a team of volunteers from Marquette's National Honor Society, her family and other Girl Scouts to create a rainwater garden. Two days were spent digging out the wet area and contouring it into a basin with a berm around it. The volunteers created paths, filled them with crushed rock and outlined them with sweet gum limbs from a tree that had been taken down on the property. "These paths not only add an artistic flair to the area, but provide easier access into the garden for both our maintenance volunteers and the children who investigate the area on their tours," Pettit said.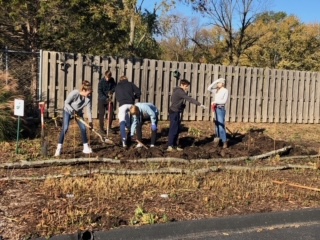 Tours of the Giving Garden are offered to school children who are fitted for uniforms and given a range of other clothing and personal care items when they visit the organization's headquarters. "The children learn not only about plants and pollinators but also about the role of insects in giving and sharing through the pollination process," said Pettit.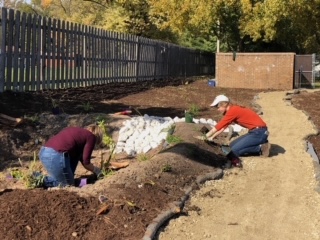 In addition to the Rainwater Garden project, King set up a fundraising event at a local restaurant on January 25 that resulted in a $300 donation to ALSL for their philanthropic programs. King estimates she has over 80 hours of volunteer time invested in the creation of the rainwater garden.