HOW do volunteers provide children with shoes, when schools are closed & learning is virtual?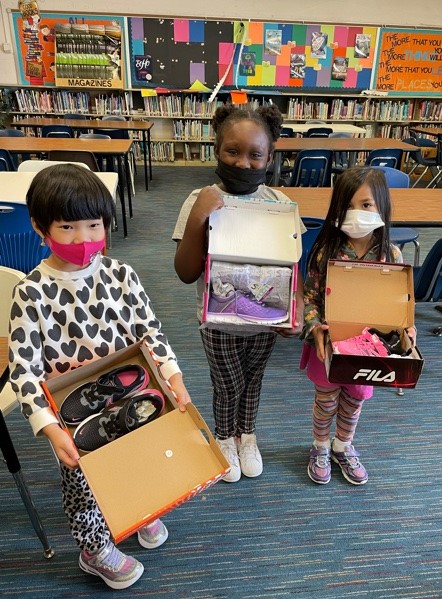 Mindy Hellmich, Assistance League of St. Louis member and Co-Chair of Steps to Success explains HOW: "You think outside the box. You think WAY outside the box!" The all-volunteer Steps to Success (Steps) team has adapted and refined sizing, fitting and delivering children's athletic shoes and socks since COVID began. They continue to streamline the system to provide shoes to children in St. Louis City and St. Louis County Schools. The program's other Co-Chair is Beth Yeck.
The Steps team focused on 25 schools in St. Louis City in the Winter-Spring 2020 session, using a voucher system. An Assistance League liaison provided each school with an envelope of vouchers for shoes and instructions in English and Spanish to be redeemed within 8 weeks at the Maplewood Shoe Carnival Store. The returns and redemption rate were disappointingly low.
Results of a follow-up survey to parents revealed two issues: finding transportation and scheduling a fitting before the deadline. Undaunted, volunteers devised a new form for Spring 2021 to more accurately reflect the necessary requirements (child's name, sizes/style). Parents' responses and vouchers were then given to our Shoe Carnival contact, Katie Junge, who filled the orders at the Maplewood location. ALSTL volunteer liaisons delivered over 1,900 athletic shoes and 3,300 pairs of socks safely to the schools.
Fall 2021 brought more challenges: tracking school openings, then closings and children returning to virtual learning. Once again, the Steps team clarified and simplified the form and improved the fulfillment and packing process. Shoes were delivered to ALSTL Headquarters, where the Steps volunteers sorted, organized, labeled and packed. Lessons learned the hard way proved more cost-efficient and required far less volunteer time. These improvements will streamline the post-COVID Steps program. Mindy attested that this last effort was the most successful, including positive feedback from the schools. This February, Steps will expand to schools served by Assistance League's Outreach program and several St Louis County School Districts. ALSTL volunteers are optimistic that they will be kept very busy with increased requests.
The Steps volunteers are grateful to Katie Junge of Shoe Carnival-Maplewood for her continued support. Katie's years of dedication to the Steps program enable ALSTL to provide quality shoes and socks to school children. New shoes help them feel confident and successful and as one of our energetic students said: "These shoes make me jump higher!"