Volunteers from Assistance League of St. Louis (ALSTL) and St. Louis Children's Author Micheal Anderson Surprise Students!
On Friday, March 4th volunteers from ALSTL's literacy program Books from Friends and St. Louis children's author, Micheal Anderson met at Mullanphy-Botanical Garden ILC, 4221Shaw Ave., St. Louis 63110.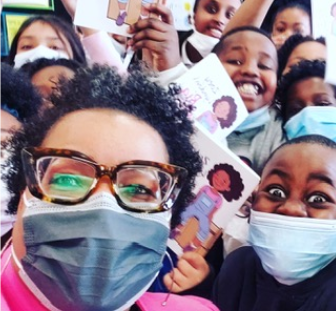 National Assistance League's annual Action Week focuses on children's literacy and this year, the St. Louis chapter's celebration proudly included children's author, Micheal Anderson. Picture: Micheal in selfie with students at Mullanphy.
475 preschool through 5th grade students from Mullanphy Botanical-Garden ILC were entertained by a parade of costumed ALSTL volunteers dressed as book characters, who brought the books alive. Costumed volunteers, including Pete the Cat, Thing One, Thing Two, Clifford the Big Red Dog, the Cat in the Hat and a charming unicorn assisted 1st through 5th grade students to select two new books to take home.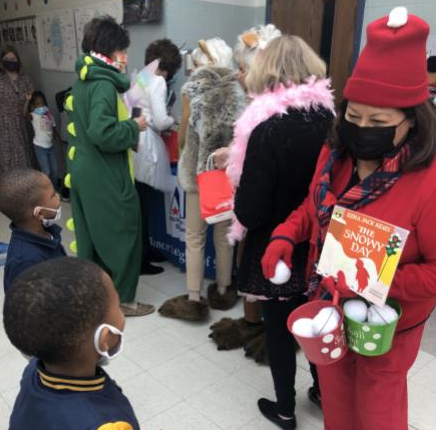 Preschoolers and kindergarteners each received two new age-appropriate books in their own book bag, including new Bombas socks. Picture: The Snowy Day child aka, ALSTL President Yolanda Perez-Cunningham
Micheal Anderson met with fourth grade students to present Zoey Lyndon's Big Move to the Lou. Micheal's books have a special focus on STEM for girls and the main character, Zoey is a fourth grader. Micheal encouraged her own daughters to study STEM and one is now a scientist and the other is pursuing a PH.D. in biomedical engineering.
In 2020-21, Books From Friends distributed over 15,000 new books to St. Louis school children and held multiple book parades for St. Louis elementary schools.