The January 30 Everyday section of the St. Louis Post-Dispatch featured an article, "Care closet equips students with necessities," in the KidNews section. The story featured a Chicago public school program providing students in need with clothing and personal items. Julie Hundmann of the National Council of Jewish Women (NCJW) in St. Louis responded on February 4 to the story in the From Our Readers Opinion section about the NCJW Kids Community Closet Program.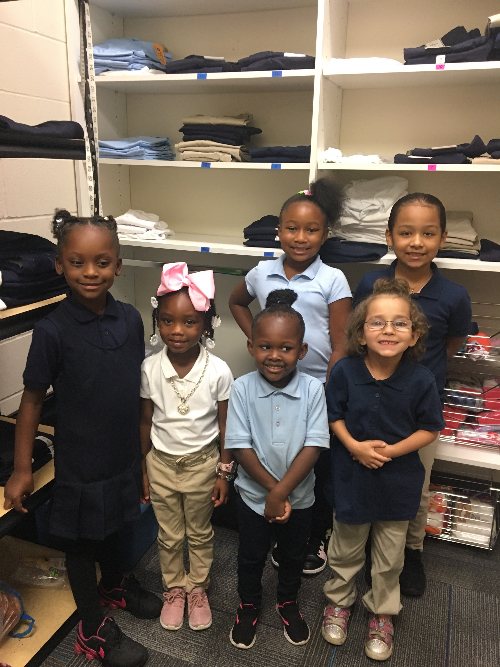 Monroe Elementary School children in AL's closet
Assistance League of St. Louis Operation School Bell (OSB) program developed AL's closets five years ago, and this year, we have given 22,000 new items of clothing, including pants, shirts, underwear, socks, fleece jackets, hats, gloves, belts and over 1000 coats. Operation School Bell volunteer liaisons stock AL's closets in 24 elementary and middle schools in St. Louis Public Schools, several county school districts, and five district closets for students in transition. We work cooperatively with the NCJW to stock several of these closets. Additionally, we provide school nurses with hygiene and personal care items. Our unique STEPS program provides athletic shoes to the OSB schools plus schools in the Pattonville, Ritenour, and Ferguson/Florissant school districts.
The schoolchildren in this community have ongoing needs. Assistance League of St. Louis has 99 attentive volunteer liaisons who respond quickly and keep AL's Closets ready to answer those needs. We are very proud of the significant contribution we make to our St. Louis community. For 35 years, Assistance League of St. Louis has put CARE into ACTION.