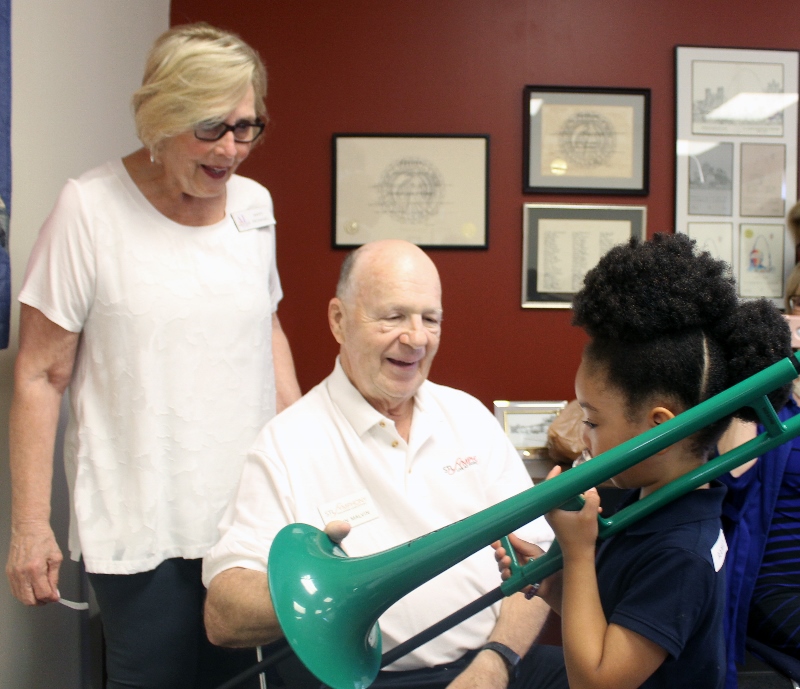 ALSTL member Mary Reinagel of Ballwin (left) watches as a student learns about playing the trombone from John Malvin (right) of Collinsville, Il., was among 13 St. Louis Symphony Orchestra Volunteer Association Members at Assistance League of St. Louis' third uniform fitting on Thursday, August 29. The SLSO volunteers demonstrated how to play orchestra instruments to 60 Kindergarten through fifth-grade students from Woerner Elementary School in South St. Louis, while the children waited to be fitted for uniforms.
On August 27, Assistance League member volunteers began fitting children from 33 schools. Fittings are scheduled over 60 dressing days and end in late January. School children are coming for fittings from the school districts of Ferguson-Florissant, Hazelwood, Jennings, Normandy and St. Louis City. Each year, through its Operation School Bell® program, Assistance League volunteers contribute 5,700 hours to the program.
In 2018-2019, Assistance League served 7,312 elementary school children through this program, providing each student 22 items, including two pairs of pants, knitted hats, gloves, two short-sleeve and one long-sleeve shirt, one fleece jacket, socks, underwear, a toothbrush, toothpaste and other hygiene products and for each girl—a headband.
Each student also receives a book of the child's choice. School nurses are given boy and girl underwear, hats and gloves, socks, elastic belts, sports bras, deodorant, and dental kits—for emergency distribution. Operation School Bell® has served over 90,000 students since it began in 1990.