Assistance League is pleased to feature international best-selling author of historical novels, Alyson Richman, at our 16th annual Authors Brunch, "Living with a Full Heart," at 11 a.m. on Saturday, April 24.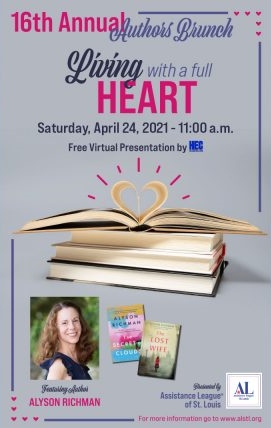 The event will be presented by HEC media via this link and will be available to view in the future:
https://hecmedia.org/posts/living-with-a-full-heart/
The link can be shared with friends and family, but the presentation will not be made available until Saturday morning at 11 a.m.
This annual fundraising event will be virtual with no charge to view. However, you may make a donation by printing and completing a Reservation Card. You may charge the amount or mail a check with your form.
The Lost Wife and The Secret of Clouds are also on sale for $16 each. Simply print an order form and mail as instructed.
We look forward to this very special and exciting time together!